The Burleson Honey Tour page, provides you with the official registration information, ride distances etc. and if you scroll down a bit, videos, interviews and ride reports for this event. If you don't see a ride report and you participated in the event in the past, feel free to type something up and we'll add it here!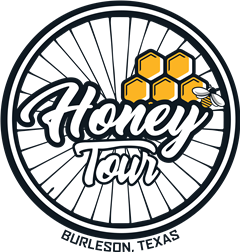 Date: May 26, 2018
Event: 20th Annual Burleson Honey Tour
Route distances: 7, 20, 30, 46 and 67 miles
About the ride:
20th Annual Burleson Honey Tour – Saturday, May 26, 2018

Burleson Honey Tour Place and Time
Centennial High School (201 South Hurst Rd., Burleson, TX 76028)
**  Enter EAST PARKING LOT OFF RENFRO  **
Staggered starts beginning at 8:00 a.m. (see Routes below)
(No late starts after 7-Mile Route start – course closes at 2:00 p.m.)
NO PETS or ALCOHOL allowed on the Premises.
Pre-Register Online through May 23, 2018.
On-site registration on day of ride: $35, opens at 6:30 a.m.
Ride Day Packet Pick-Up: Begins at 6:30 a.m. at Centennial High School
Start Times
Staggered start with the first wave (67 & 46 Mile riders going out at 8:00 AM, followed by the 30, 20 and 7 mile riders leaving after the first wave clears.
Location: 201 South Hurst Rd. (Centennial High School) Burleson TX 76028
Event Website: http://honeytour.athlete360.com/
Registration details: Online registration
Contact:  balles@burleson.org
Find more information about other rides on our mainpage