Author: Matt Leuck
Website: http://euclidsbridge.wordpress.com
Ride: Trek 100 in Waterloo Wisconsin
It's a bit late but I don't think I ever completely documented this experience, which has been one of my favorite bike weekends ever. In a way this might be more of a bike weekend report, but there are bikes all the same.
Last winter a friend called me and asked if I wanted to do a bike ride with him and some friends. "Sure, sounds great… what's the catch?"
"Well, it's in Wisconsin (where his sister lives) and its 100 miles…  but it's put on by Trek and there's always free goodies."
"Well, I've been wanting to do my first century for a while now. What the hell, I'm in."
"Ok, it starts at the Trek headquarters in Waterloo and heads out and back across the rolling Wisconsin countryside. Oh and bring your appetite, because the aid stations are out of this world and there's free beer!"
About that time I finished up my new bike build (Masi 3VC Carbon, SRAM Rival, etc).  Fast forward to June and it's time to head out.
Broken down and ready to ship: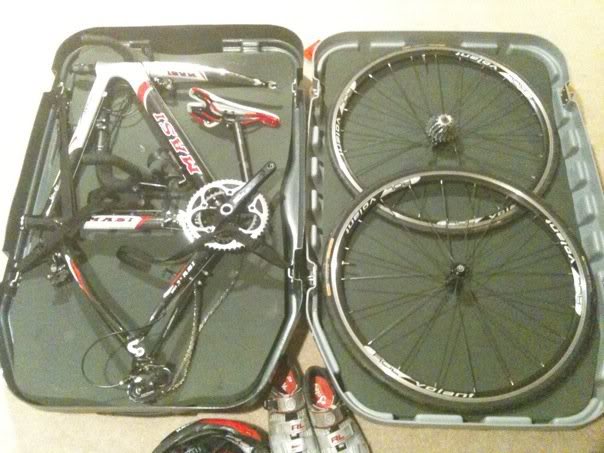 I packed up my gear and sent it up to Revolution Cycles in Madison, WI. Great shop, great people and they held on to all of my stuff for me until I got in town. By the way, would you believe that on American Airlines, when a flight attendant asks you to take the bike helmet that's attached to your backpack via carabiner and put it in the overhead bin they will NOT allow you to just put it on your head. Apparently in this context the helmet is just too unsafe. Anyway, here's a cool shot of Revolution:
We had 5 or 6 people meet up from around the country for this so we used the day before the ride as a prep. Madison is a big on cycling. Bike lanes on all the streets, big wide bike paths, bike racks everywhere, including bars. It's great. One friend was just getting back from clavicle / scapula breaks thanks to a car turning in front of him while on a training ride in Pittsburgh. As a little shake-down for him we did 20 miles around the lake in Madison then popped into some local joints for a cold beer. The dinner of choice on the night before the monumental journey was pizza and more beer. Yup, this was shaping up to be a great weekend.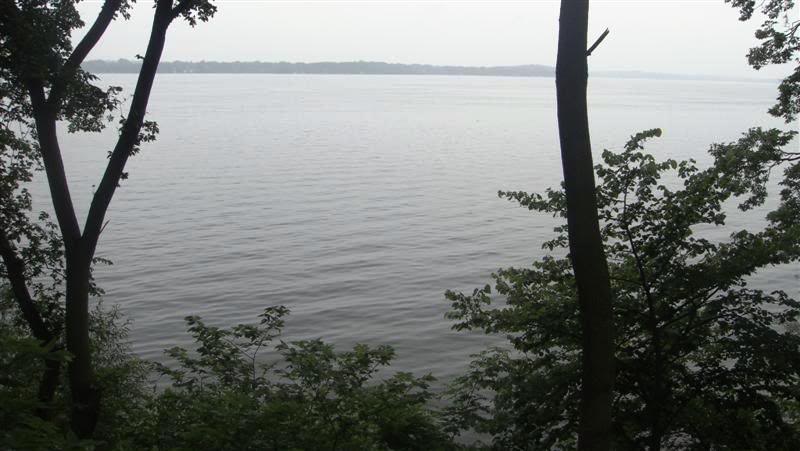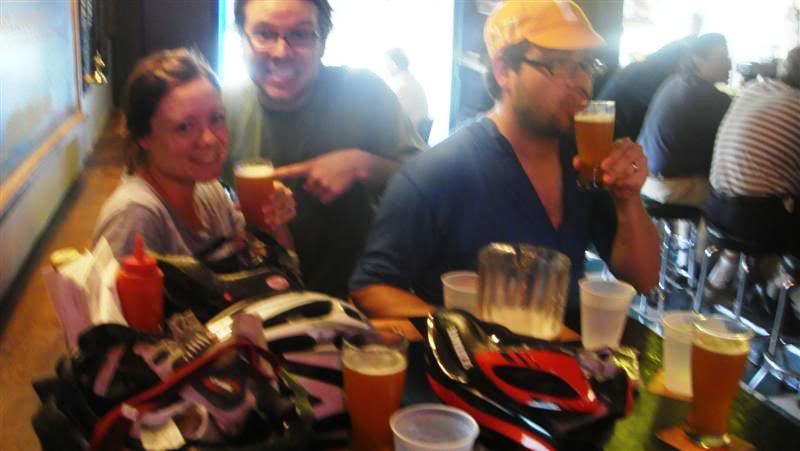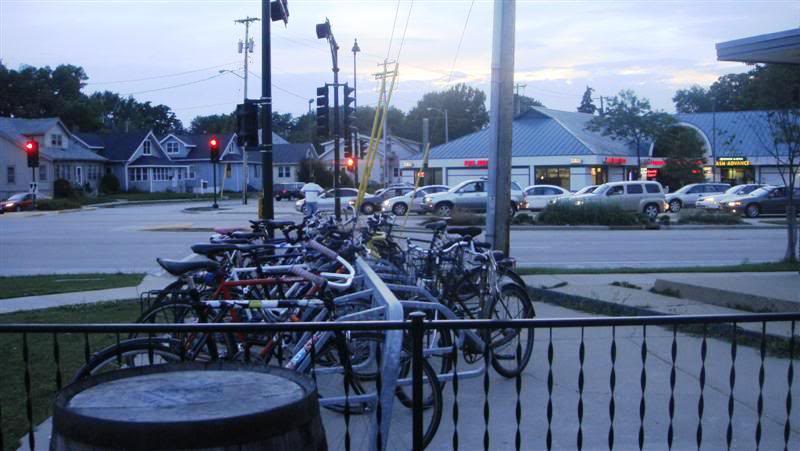 Oh, and we also took this opportunity to make a slight upgrade to my bike. I was planning to wear a Lone Star Beer jersey for the ride. Gotta represent the Republic of Texas, right? Well, We couldn't find Lone Star cans in Madison so I went with the next best thing:
Fast forward to Saturday morning, pre-sunrise. The smell of bacon fills the air. Yeah, we like to really clean up the diet leading up to long rides. Bike prep, gear prep and a little drive out of the way, we finally get to the starting line for the ride. We were next to the stage where a band would be playing after the ride, but for now there were the usual ceremonies going on. National Anthem, thank yous to the sponsors, and the calling out of the one guy in the group wearing a Lone Star Beer jersey.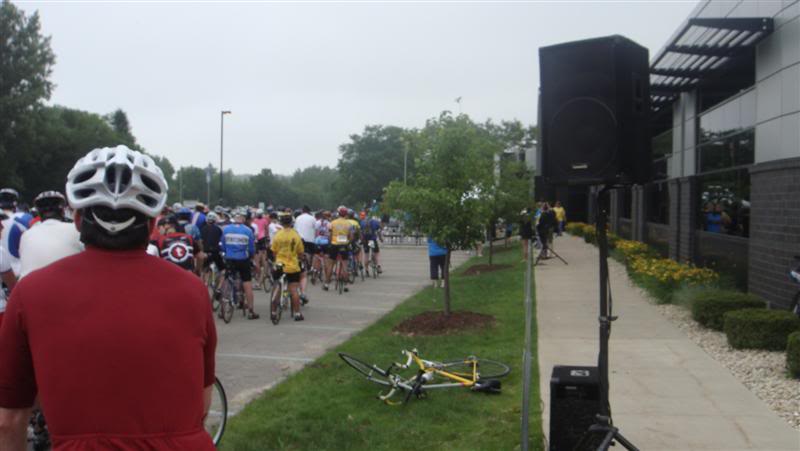 *On the PA system*
"Lone Star?! Where are you from"
"From the great state of Texas, sir."
"Texas, huh… $5 says you traveled the farthest of everyone here. That means you lead us out. Make way for the Texan! Get up to the front… we're leaving when you do!"
And with that my first century was underway.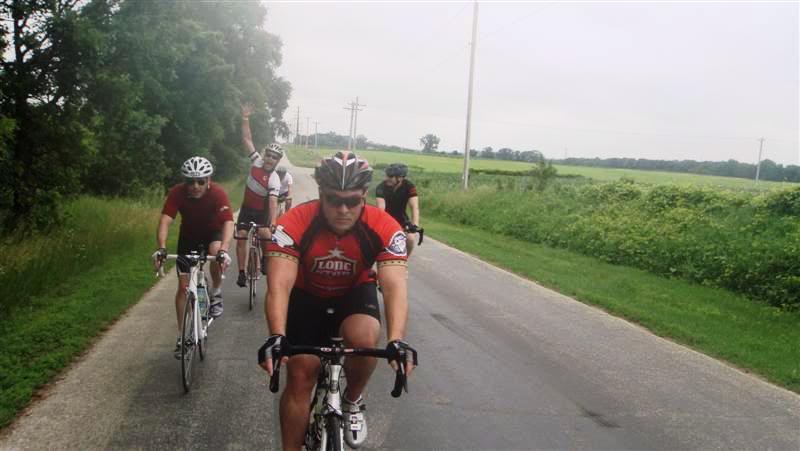 The ride was farily uneventful when you exclude my brief moments of idiocy. Like the time around mile 20 when we thought it would be a good idea to latch onto a 30mph pace line. Or the time around mile 40 when I thought it would be a good idea to jump out front of our group and catch "the breakaway" (aka. The next pack of riders up, about 1/8 mile ahead on a slight uphill run). I paid for both of those later in the ride, as evidenced by the bruised quad that we noticed at a rest stop. Slight strain, I'd say. You can see some bruising in this pic.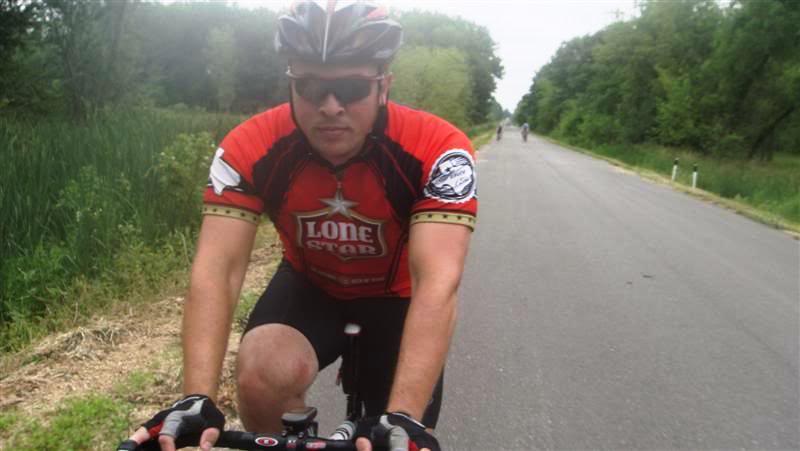 And these guys weren't kidding about the rest stops! Subway sandwiches early on. No big deal.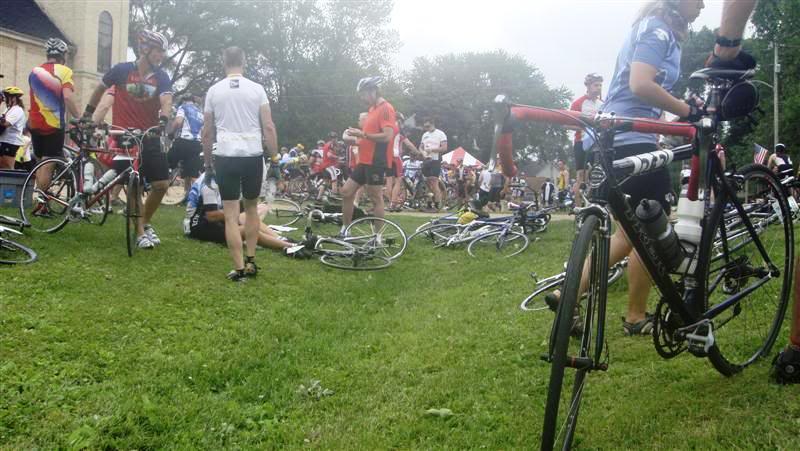 But then, what is that… is that a snowcone stand?! Yup. Moving on… no… can't be… hot wings! SCORE!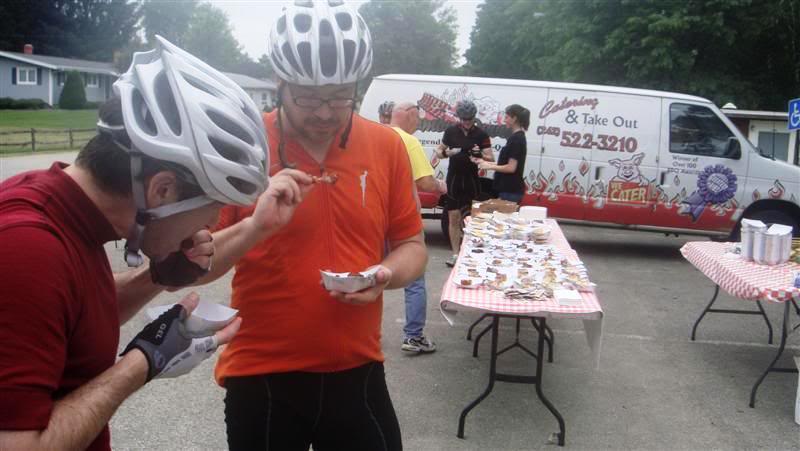 It was at this time that one friend who has done this ride many times before told me, "Matt, we're at mile 65. This stand was in the same place last year and I took down 14 wings. I'm goin' for broke here buddy, keep an eye on me." 16 wings later, pride fully intact (if not boosted), we were back on the road.
Trucking on through the countryside, the rolling hills were becoming annoying, but every now and then we'd get a nice long fast one to make it feel a little better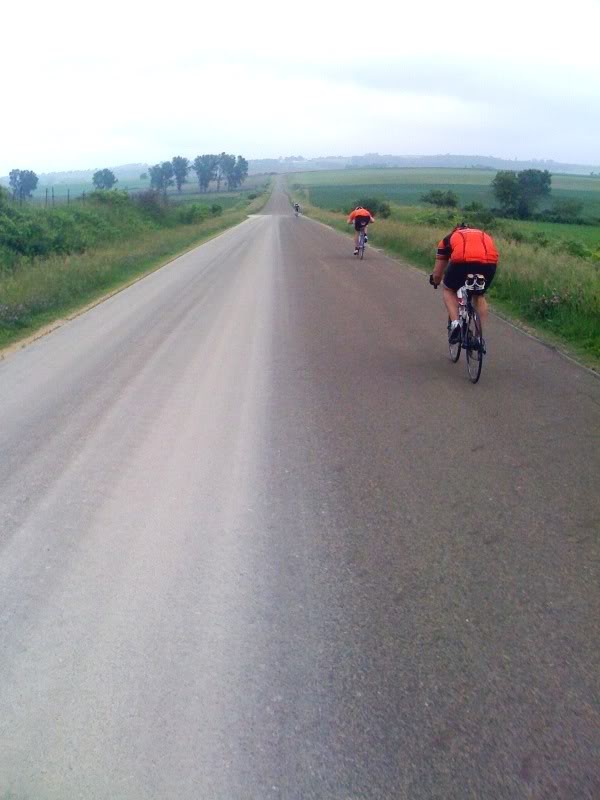 Thanks to the long night before I was starting to feel it in my legs, but thankfully I had two doses of the best pain reliever to ever be poured out of Dublin. Mile 70 and mile 85 both got a Guinness chug while on the road and I have to say, it was perfect. Slightly irresponsible, maybe. Great story and the most satisfying beer ever, definitely.
Anyway, we continued on to the finish in a not-very-respectable 5:30. In this case though a slow time was completely worth hitting every stop and having an incredibly fun time doing it.
Here's a shot of Hot-wing Steve, myself and Dave.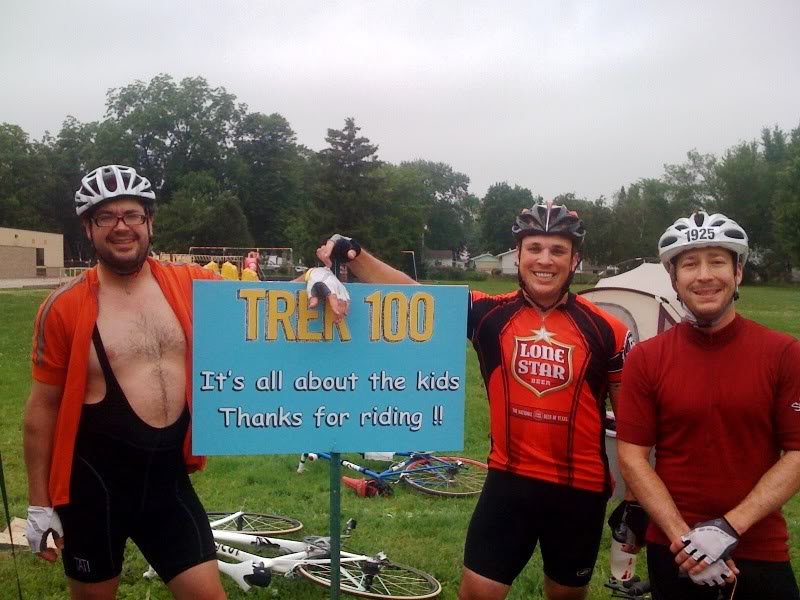 My favorite part of all of it though is the post-ride beer. A few in our group had a rough start and bailed early to do the 100k route. This means that they were waiting for us at the finish. Have you ever had a beer handup? No? Give it a shot sometime. It beats the hell out of Gatorade!
As a post-ride celebration we went back and had yet another night of fun. A couple growlers of some local microbrew and more food (more bacon!) and it would soon be time to head back to TX, but not without some incredible memories and experiences from my first century.