This years HH 100 was my second century ride and second HH 100. Last year it was 109 degrees and I finished in 10 hours, about seven hours on the bike. This year I prepped harder and felt I was better prepared to finish faster. I did not finish…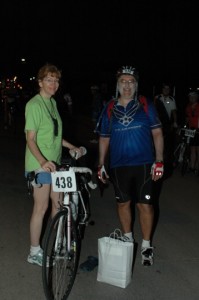 Early Morning Start
At the 90 mile point I cramped so bad I had to sag in, damn. I had a fore and aft sound system on my bike and had the Air Force Hymn all cued up to play on a continuous loop when I got to Sheppard. I also had an Air Force flag on my Camelbak, an Air Force jersey, and was going to switch to an Air Force ballcap for the ride through the base. The whole spring and summer I was anticipating the ride through Sheppard, and I crapped out!!! That was a huge disappoinment and next year I will crawl through there on my hands and knees if it comes to that. The weather was so much cooler and we had plenty of cloud cover, but oh man the wind was a killer. That final turn on to the highway, dead in to the wind for the southbound finishing leg was brutal. A lot of people finished, a lot did not. There was no Hell's Gate this year due to the new 100 mile routing. They were supposed to put up Pyro Pete at the 70 mile rest stop but I did not see him.
Crossing the tracks at Iowa Park
Unlike last year there was not an early start, but it was cooler so that was OK. I have to admit I really enjoyed last years early start from the standpoint of riding in the dark and then through dawn in to daylight. That was really cool. The flyby for the start was not jets, I'm pretty sure they were turboprop T-6 Texans, they might have actually been the old rotary piston powered birds. But I don't think the Air Force keeps any of those anymore.  At some of the rest stops there was a very long waiting line for water or porta potties but with so many riders that can't be helped. The rest stops were fully stocked with food, water and Powerade; and the volunteers were super helpful and friendly. I don't know how much trauma there was but right after the start, six and a half miles out on the road to Iowa Park a rider went down hard. He was lying in the middle of the road bleeding with what looked like head and or facial injuries. I am a physician but emergency responders were just arriving so I continued on.
Still thinking I will actually finish!
If you wanted photos, the Marathon photo folks were out in force! I actively sought them out and really hammed it up for photo ops! Some people think they are too expensive but their job is hard and it takes a LOT of work, and photographers, to take and process all those photos. It's not a cheap weekend in any case and I popped for the $75.00 full CD of photos and highlights and consider it a bargain. One of the highlights of the drive to and from Wichita Falls is a stop in Stephenville at the Hard Eight BBQ. There were lots of bikes in the parking lot, too, both going on Friday and coming home on Sunday. The hell with carbo loading, at least some cyclists prefer to sausage, brisket and rib load! OK, fifty weeks left to train for next year. I'm out for a ride.
Michael Guerra,M.D.
Kerrville, Texas