Imagine Riding 526 Miles Over Just a 6 Day Period? Well That's the Challenge for Me and 150 Other Riders Who are on a Mission to Help Disaster Victims
[Editor's note]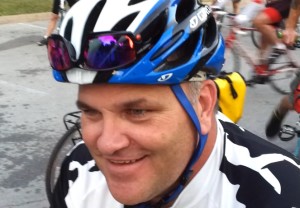 Here is a story from Matt, one of our Wheelbrothers.  Matt is one of the many pieces that make this motely group of 'brothers' so special.
He is one of those guys that no matter what time you call, he will always be there 'ready to ride'.  Doesn't matter how cold, how hot, whatever might be going on – Matt simply is there.  To me, he is the epitome of what a cyclist is. That 'man' will never quit; he has hung in there battling and battling with a never-say-die attitude.  He is ALWAYS encouraging others and looks for ways to serve more and do more. Matt is methodical, tenacious and possesses a heart bigger than the State of Texas.  We are honored to have him part of our group of characters!
Please enjoy his write up…
By Matt Holmes
Hi, my name is Matt Holmes and I am a fellow Wheel Brother from Arlington, Texas.
What is a Wheel Brother you may be wondering?
Let me briefly explain…
I started riding almost three years ago. I've always been interested in riding and have followed the sport for many years. I finally bit the bullet, spent the money and bought a bike & gear in 2010. I started to ride on the weekends at River Legacy and on Green Oaks Blvd. I thought this was a great beginning, and since I didn't really know anyone else who rode, it was a nice start for me; but that was all about to change.
One night, my wife and I met three of her high school classmates and their husbands for dinner at a local Italian restaurant. After some light conversation, I discovered that one of the husbands was also a fellow rider. He told me that he rode with a great group of guys and that I should come out and join them one weekend. Now, at this point I had ridden with a handful of people – NONE of which were 'regular' riders, so I was a bit nervous to say the least, but I was determined to become a stronger rider, so I took him up on the offer. The group was called Wheel Brothers and Dieter was the rider who introduced me to them.
My first ride with the Wheel Brothers was in early 2011. We did a 20 mile ride around River Legacy and through the adjoining neighborhoods. They were patient and encouraging and allowed me to tag along for several rides after that always telling me I would get stronger and it would get easier. In that year, I also did my first real rally which was Ride For Heroes in Aledo, Texas. I followed that up with Germanfest in Muenster – Peach Pedal in Weatherford – and Goatneck in Cleburne, Texas. With each rally I attended, I got to know more of the guys from the group and fell in love with riding even more. I certainly wasn't the strongest or the fastest, but I was determined and the guys from Wheel Brothers made me feel right at home with them – never leaving me behind and always supporting me. I grew up playing team sports my entire life and I appreciate the value in teamwork and the encouragement these guys gave me was appreciated so much more than they will ever know.
Throughout each rally and ride during 2011 the guys would always say 'when you do Hotter 'N Hell'…WHEN, not IF, but WHEN. I thought they had lost their minds – but I went with it anyway and kept on riding and training for this hellacious event.
The date kept drawing closer and closer. I had not made any hotel reservations, so that was an issue. I had changed careers in January of that year and did not bring home my first paycheck until June; to say money was tight was an understatement. Paying an entry fee for Hotter 'N Hell was not on my wife's priority list; it was, however, a top priority for my oldest friend, Scott McKenzie. I got a phone call around 7pm on the Friday before Hotter 'N Hell from Scott & his wife. I told them that I wouldn't be attending the ride this year. The next thing I knew, Scott was at my door with his bike and gear and around 2am we headed out for Wichita Falls.
I finished the 100mile ride in 7 hours – nothing fantastic, but I was thrilled that I finished at all.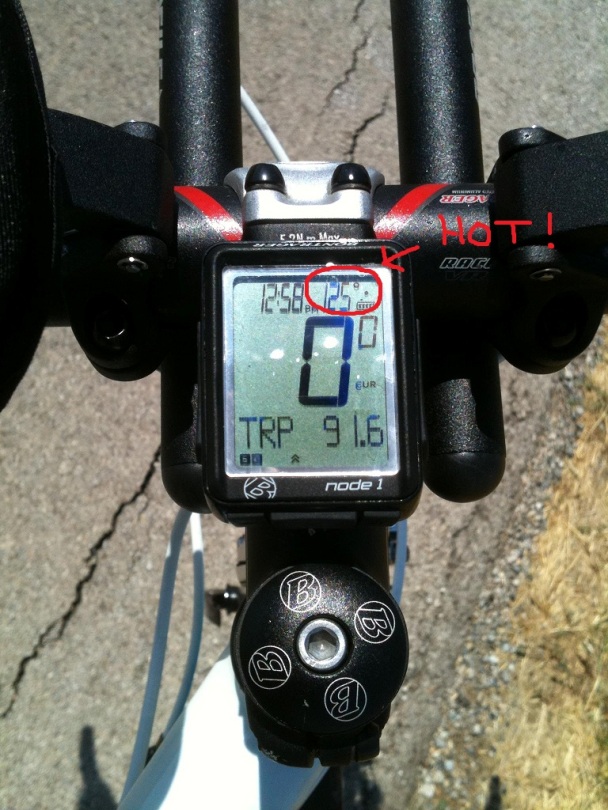 [Editor's note: The heat that day reached temperatures of 125 degrees and Matt taking the extra time meant him being out in the sun and fighting through it.  Due to some miscommunications he dropped from the group early on and pretty much rode it alone.  All of the Hotter 'n Hell riders suffered that day but while Matt was a little 'less' then happy at the end (The heat left him a little, let's call it dehydrated and grouchy at the end) he never gave up and with the heart of a champion finished when so many others would have quit!!!!!!]
Here is the amazing thing – Scott was going to ride the shortest route, but missed two turns and ended up riding 100k that day. Prior to that day, the longest he had ridden was about 40 miles and had not been on his bike very much at all that year. It was a great day overall and an unbelievable experience I will never forget.
Fast forward to today – we are still riding, but now, with a purpose. As we speak, I am training on my trainer in my living room for the 5th Tour du Rouge, a 6-day, 526 mile ride from Houston to New Orleans benefitting The American Red Cross.
[youtube=http://www.youtube.com/watch?v=a0KI1dCeHao]
As an insurance agent, I am more than familiar with natural disasters and the devastation they can cause. They can wipe out an entire town in minutes, leaving you with only the clothes on your back.
For all of their help with disasters like these, I am honored to be one of the 150 riders helping the American Red Cross with their fundraising through Tour du Rouge.
I am also proud to be affiliated with The Wheel Brothers and so many more that I have met along the way. And very proud to be riding in this 6 day event that will raise much needed relief funds for people who need assistance.
The American Red Cross makes it easy to help others – just follow my link below and you will be taken to my page.
The donation box is on the right hand side.
Thank you in advance for your support.
Matt Holmes
http://american.redcross.org/goto/mattholmes
http://american.redcross.org/site/TR?fr_id=1513&pg=entry