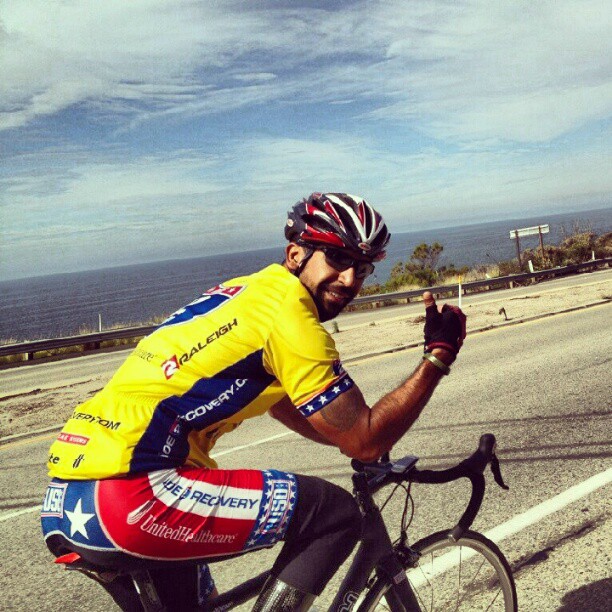 Photo courtesy of: Juan Carlos Hernandez
Join in the cycling fun and help injured veterans lead healthier lives!
Fort Worth, Texas, March 26, 2013 – The Ride 2 Recovery Honor Ride is spinning into Fort Worth on April 14, and you can join in the cycling fun to support America's healing heroes. The Honor Ride-Clay Hunt, sponsored by Bell Helicopter and presented by Chevrolet, is a self-paced, non-competitive ride to be held on April 14, 2013. Injured veterans and the general public can ride one of three distances – 25, 51 or 104 miles – all of which begin and end at Billy Bob's Texas – Historic Fort Worth Stockyards.
Joining the riders will be Ride 2 Recovery board member and former Army Chief of Staff General George W. Casey, Jr. (USA-Ret.), Medal of Honor recipient Sal Giunta, and injured U.S. Army veteran Juan Carlos Hernandez. "I've seen the real benefits of cycling for injured veterans. Ride 2 Recovery helped me, so it's great to be part of this program," said Hernandez, who handles VIP rider assistance for Ride 2 Recovery. The Dallas Cowboys Cheerleaders also will be part of the day's event, leading the cheer of support at the beginning of the ride.
The physical aspects of the ride are challenging, but the real recovery it provides is mental. "I'm part of this program not only because I get such a charge out of seeing these men and women break through barriers, but also because of the camaraderie we all experience," said U.S. Army Rt. LTC David Haines, chief operating officer of Ride 2 Recovery. "I was in the Army and was injured in Baghdad. I had 35 surgeries and discovered that Ride 2 Recovery is not just about getting healthy again. It's about building lasting friendships and a network of great people who can really help."
The second annual Bell Helicopter Honor Ride – Clay Hunt will honor the service, values and memory Sgt. Clay Hunt, a sniper with the U.S. Marine Corps who served in both Iraq and Afghanistan. Despite years on the military lines, he may have fought his most vicious battles at home. While he fought depression and post-traumatic stress, he also sought to help others. He volunteered in Haiti with Team Rubicon, built bikes for Ride 2 Recovery injured veterans, and appeared in a public service announcement for Iraq and Afghanistan Veterans of America. Hunt took is life on March 31, 2011, two years after battling post-traumatic stress (PTSD) and his fight against the physical, emotional and psychological effects of war.
The Honor Ride-Clay Hunt is also the finale for cyclists in the UnitedHealthcare Ride 2 Recovery Texas Challenge. More than 200 injured veterans and their supporters will ride in the seven-day, 385-mile Challenge bicycle ride beginning in San Antonio on April 8 and ending in Fort Worth on April 13.
Ride 2 Recovery, a program produced by the Fitness Challenge Foundation, supports physical and psychological rehabilitation programs for injured veterans, featuring cycling as the core activity. From indoor spinning training at military installations to multiday, long-distance rides, Ride 2 Recovery helps injured veterans heal through the challenge of cycling long distances using hand cycles, recumbent cycles, tandems and traditional road bikes. The funds raised by Ride 2 Recovery support outdoor cycling programs and Spinning Recovery Labs at Military and VA locations around the U.S., as well as local rides for healing heroes. Funds also support the equipment donated to each healing hero participating in the events, including bikes that require modification due to injuries.
Ride 2 Recovery has established Project HERO programs at 34 military installations and three VA sites. Through these on-site programs, Ride 2 Recovery partners with the facility staff and cadre to create personalized and progressive programs to fit the needs of the individual patients and promote a fuller, quicker rehabilitation.
EVENT DETAILS:
WHEN: Sunday, April 14
7:30 a.m. Registration and Packet Pick-up. 9:00 a.m. Ride Start
Note: Registration and Packet Pick-up also available on Saturday, April 13, from 11 a.m. to 5 p.m. at Sun & Ski (4941 Overton Ridge Blvd., Fort Worth, TX 76132, 682-747-0418)
WHERE: Billy Bob's Texas – Historic Fort Worth Stockyards – 2529 Rodeo Plaza, Fort Worth, TX 76164
REGISTRATION: Pre-registration highly recommended. Sign up at: http://www.active.com/cycling/ft-worth-tx/honor-ride-ft-worth—clay-hunt-2013
COST: $75 – per rider
$125 – per family – 2 adults same household and no limit for children
$10 – Kids' Honor Bike Race only – 200-meter, closed course
No cost to injured military, active duty or retired
Teams: – $300 – 5 riders for the price of 4 / $600 – 10 riders for the price of 8
A portion of the registration fee is tax-deductible and includes tech shirt, route slip, SAG support and rest stops.
CPSC helmets must be worn at all times by all riders.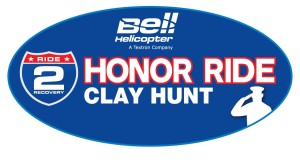 About Ride 2 Recovery
Ride 2 Recovery, a 501(c) 3, helps injured veterans improve their health and wellness through individual and group cycling at military bases, as well as on seven long-distance challenge events staged each year. Cycling has proven to be a catalyst in the recovery process by providing a new physical challenge while concurrently helping to cope with the mental challenges.
Ride 2 Recovery major sponsors include UnitedHealthcare, Chevrolet, Raleigh Bicycles, USO, United Airlines, U-Haul, Macy's and Rudy Project.
For more information, visit Ride2Recovery or follow us on Facebook or Twitter at @Ride_2_Recovery