Ron is one of our Wheelbrothers and is one of those individual that just LOVES the idea of riding hills.  Well, hills and mountains that is.  This summer he had the opportunity to travel to France and cycle along Tour de France roads.  While there he apparently found some 'hills' as well and made it up one named Alpe d'Huez.  He was kind enough to do a short write up for his travels up Alpe d'Huez which we hope you will enjoy as much as we did.  Later on this week he will add his story about Mt. Ventoux.
Enjoy!
As I sit on the train from Paris to the Pyrenees, I can't fully embrace all that's before me.  Sure I've done every HC climb in the United States and have been actively checking off challenging climbs since 2010, there's something magical and just plain intimidating about what I'm about to encounter.  I don't know if it's the climbs themselves or what they represent.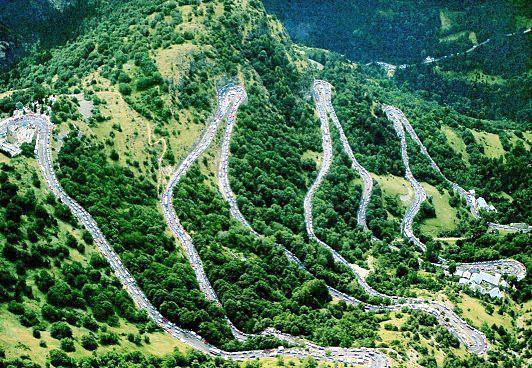 For starters, being here in France by itself is a little overwhelming.  I've never been in a foreign country before and not understanding the signage or the language spoken by the populous has really taken me out of my comfort zone.  But coming here to ride my bike up mountain passes, this should be right up my ally.  I mean, let's face it, this is what I do and it has been my primary focus for the past 5 years.  Yet again, something about being in France and tackling the same climbs that have been ridden by the best riders in the world like Merckx, Hinault, Armstrong and Contador really puts into perspective that I'm riding on hollowed grounds.  It's the glory and enormity that really makes me pause.  Not to so much out of fear, but out of the respect that I have for each of these mountain passes.  I guess what I'm trying to say is that I can't believe I'm here and  what I'm about to do.
Fast forward.  After a great week of riding, the day I've been waiting for had arrived.  Sure we've done a lot of famous climbs from the Tour de France, but none of them had the prestige and notoriety as Alpe d'Huez which is considered the most well-known and revered climb in the entire world.  And after seeing the 21 switchbacks in person the day before in the van ride up to our hotel, it's easy to understand why this is the ultimate climb for any cyclist.
While having breakfast, we noticed that the top of the mountain was all fogged over and that rain, which came down most of the night, was still in the forecast for today.  With that said, our guides told us that some of the ride today over and down the Col du Sarenne would be cancelled.  Although we were disappointed, we all knew how dangerous that descent would be even in good weather as the road is technical and in pretty bad shape.  Besides, the climb we came to do was still on the agenda and quite frankly that's all that mattered.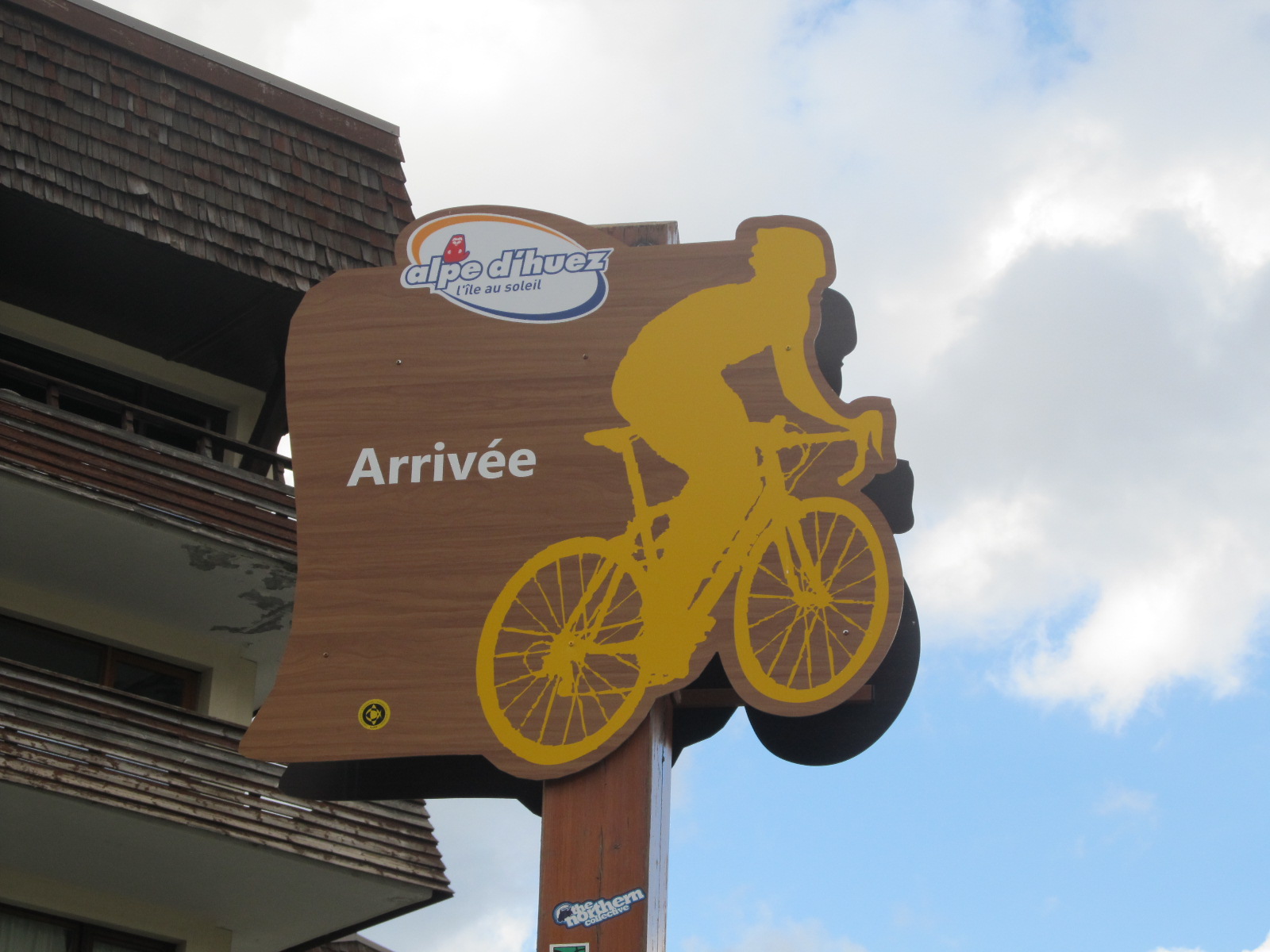 After making our way to the bottom, we took one final group photo before we fueled up and did the 1 km soft pedal to the base of Alpe d'Huez.  All week I had been thinking about this climb and told my guide that my goal was under 1 hour which is considered the benchmark for elite cyclist.  To achieve this goal, one has to hold a pace of 14 km's per hour over an 8% grade.  This translates to speed of 8.7 mph which is a pace that I've never done on an 8% grade.  In fact, my normal speed up this kind of grade is more like 7 mph so I knew the odds were against me.  Even though I told myself that any number below 70 minutes would be incredible, I was still holding out hope that riding up this climb would give me some additional motivation and strength that seemed impossible based on all my previous rides up a grade like this for a sustained period let alone 14 km's.
After doing a short 1 km warm-up, I was quickly at the bottom were the timing starts at the base of the climb.  The road sharply turns to the left and all of a sudden you're on the climb to the first switchback.  Very quickly you realize that this is not going to be just any climb.  As to be expected, Alpe d'Huez grabs your attention with a punch in the face as the grade hits 11% and stays at double digits for the first 3 km's.  Although this wasn't a surprise, it was hard to find a rhythm.  I knew I couldn't go too hard too early and risk the chance of fading as the climb progressed.  On other hand, if I went to slow in order to preserve myself, the chances of me making my one hour goal would be out the window in the first 10 minutes.  With that said, I maintained a hard pace of around 12 km's per hour which quickly proved to be enough to not only pass everyone in my group, but my two ironman friends.
After making it through this very difficult bottom section, my guide came up along me and decided to take the lead as he was afraid that I may be going too hard.  Going too hard I thought to myself?  Of course I was going too hard but what choice did I have if I was going to reach my goal.  At this point, the drizzle turned into rain and the visibility with my glasses on was so poor that I took them off and put them in my jersey.  This made every switchback a little more challenging and prevented me from hitting each one with the vigor I normally do as I was concerned about the bike sliding out from under me.  On most climbs this wouldn't be as big of a concern but since the Tour was just there a few weeks earlier, the painted names on the road were made even slicker with the rain so caution had to be given.
Around switchback 13, they start from 21 and work their way down to 0, I started to feel exhausted.  With my guide slowly pulling away from me, I decided to drop to my lowest gear and try to recover.  Now with my speed around 11 km's per hour, I'm starting to see my goal slip away as the mountain is taking its toll on me.  When my guide slowed down for me, he asked if I wanted to stop, I quickly told him no and that I was trying to recover my legs and get my heart rate down from 170 bpm.  After a ½ km recovery, I felt better and started to pick up the pace.  Just passed the half way point I saw the 10th switchback and told myself to remember where I was and that this mountain deserved everything that I had and then some.  No matter how much it hurt, it was only for an hour.  The pain I was feeling would only be temporary but the glory of this climb would last forever.
I guess these little speeches in my head to help me up this mountain must have motivated me as I got my speed to over 15 km's per hour.  Once I made it through the small village of Huez, I had 5 km's to go.  This was the do or die section as I knew once I made it to the city limits of the next village, Alpe d'Huez, the grade would ease and allow me to make up some real time.  Sure enough we hit this section and my speed was over 24 km's per hour.  After making it through the two roundabouts with a little caution as I didn't want to crash before the finish, I hit the 500 meters to go sign and could see the finish line ahead of me.  I got out of the saddle and gave it everything I had.  With 200 meters to go, my legs felt like concrete and my heart rate exceeded 180 bpm.  When I finally crossed the finish line, I barely had enough energy to stop the clock on my computer.  Once I looked down, I was pleasantly surprised to see that my time of 1 hour, 1 minute and 16 seconds.  Even though it wasn't under an hour, it was pretty damn close and a lot better than the 70 minutes I was expecting.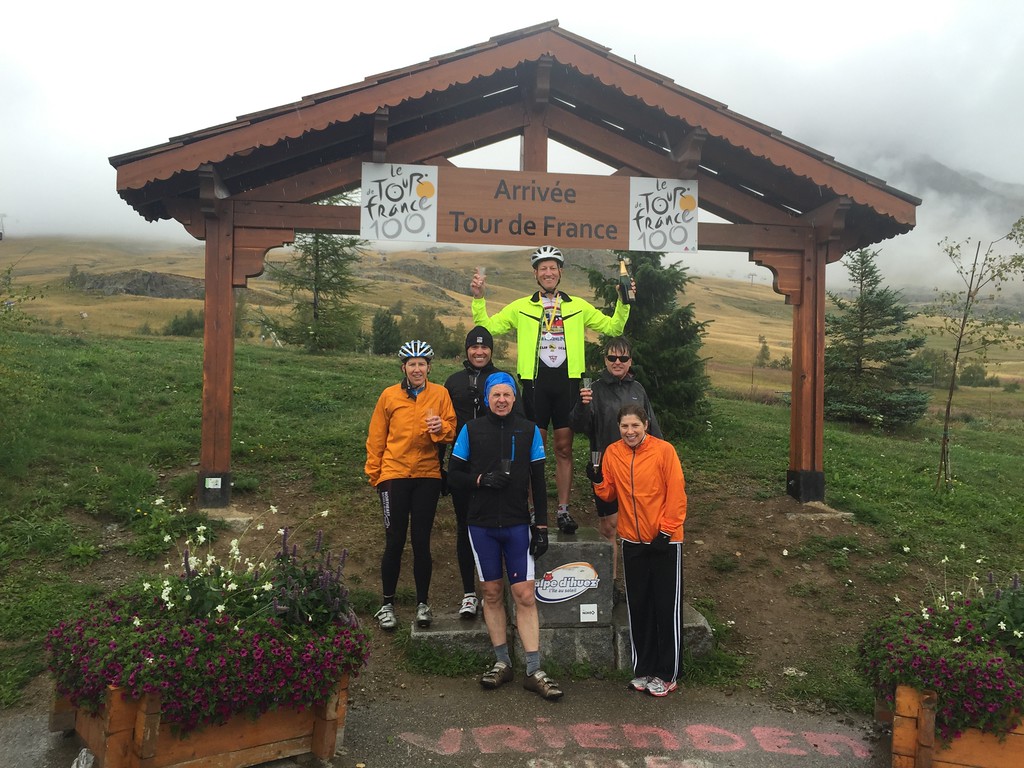 After getting a chance to reflect on the climb, I quickly realized that I gave Alpe d'Huez everything I had.  Sure there were a few moments were I needed to catch my breath, but the effort I put in over the course of an hour was the hardest I'd ever done in my seven year cycling career.  All in all I was proud of the effort and the result.  This was an amazing climb that I can't wait to come back and tackle again.