Ron Hawks is at it again! This time his adventures took him to Hawaii.
Always enjoy reading about his adventures!
When cyclist talk about the greatest climbs in the world, most can agree that Alpe d'Huez is the most famous, Passo de Stelvio is the most spectacular and Mt. Ventoux is the most iconic.  But when the discussion turns to the most difficult, this climb leaves no doubt to which climb is number one.  The undisputed heavyweight champion that wears the crown as the world's most difficult climb is Mauna Kea.  Located on the Big Island of Hawaii, this climbs rises from sea level to 13,800 feet in 42 miles.  Although the average grade of just over 6% doesn't sound like much, how you achieve this grade is anything but easy.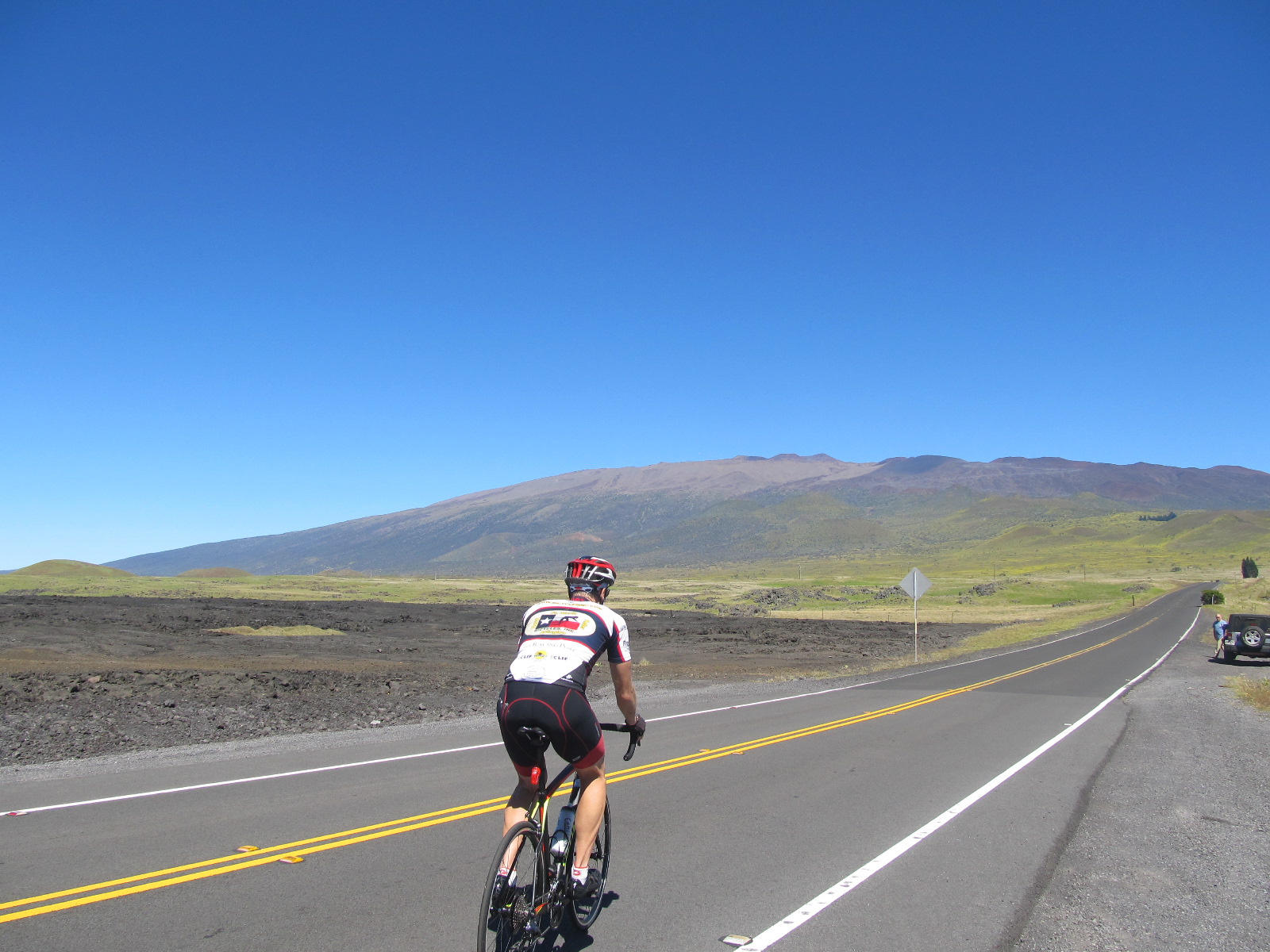 The first 27.5 miles of this climb, which has an elevation gain of 6,500 feet, is a steady climb with a few variable sections of flat to steep rolling grades.   This section is consistent and challenging but never overly difficult.  It's not until you get to the turn-off to the Mauna Kea access road that this climb shows its teeth.  The next 14.5 miles is the business end of the climb with grades that will make you wish you never heard of cycling up mountains.  In a word, the statistics for the last 14.5 miles are unbelievable.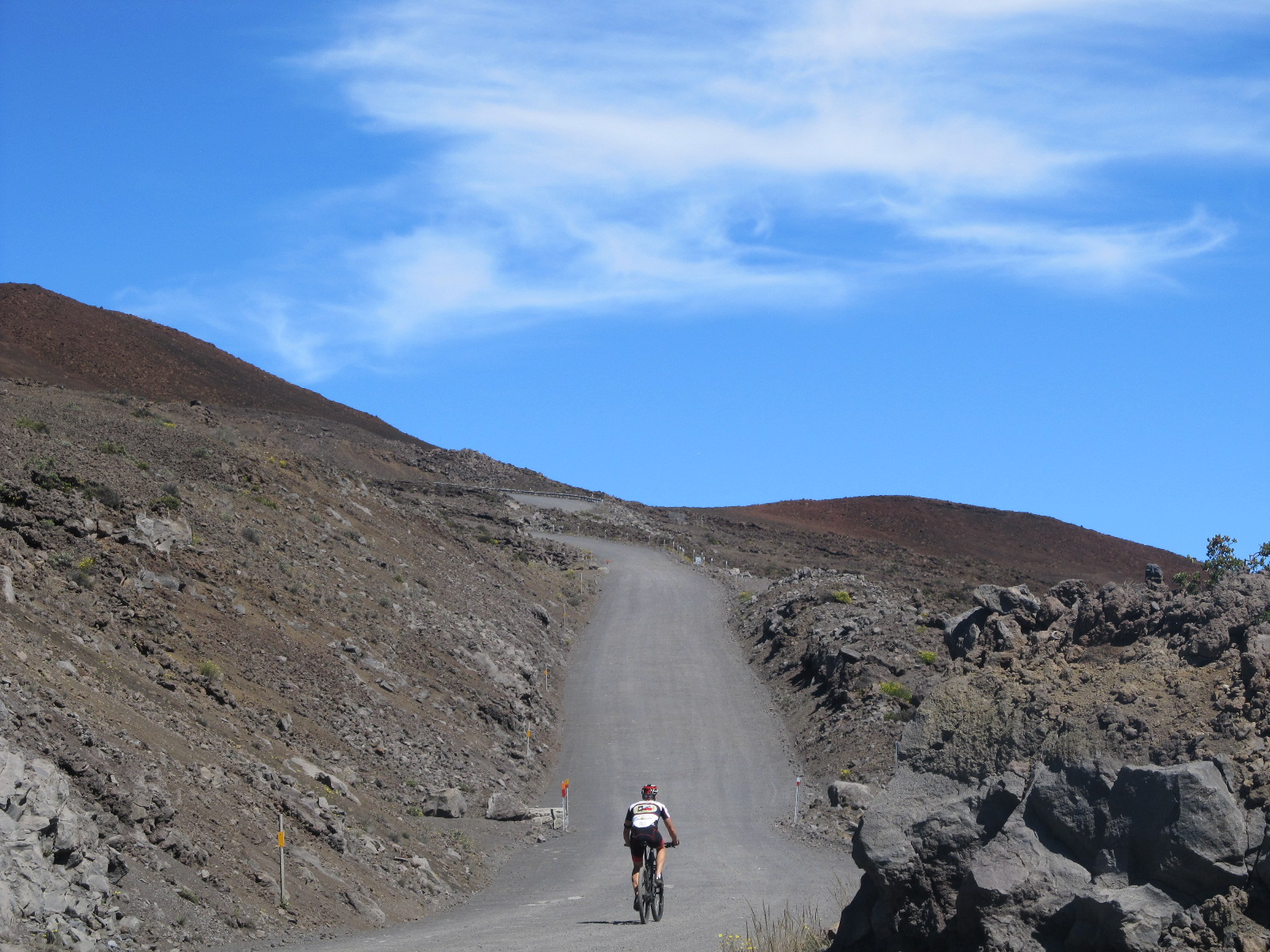 To better describe the final 14.5 miles, it's best to break it up in 3 sections as each one is very unique.  The first 6 miles which ascends to a visitor center ascends 2,600 feet with an average grade of 9%.  This may not sound like much but there are two 1 mile sections in this climb that have average grades around 14% to 17% with a maximum of 20%.  Once you get to the visitor center, which sits at an elevation of 9,200 feet, you may feel like you've been put through the ringer, but unfortunately all you've experienced is an appetizer.  The next 8.5 miles are the closest thing to hell that you will ever experience.  I've personally done every major HC/beyond classification climb in the United States and several in Europe, but nothing has ever prepared me for what I was about to do.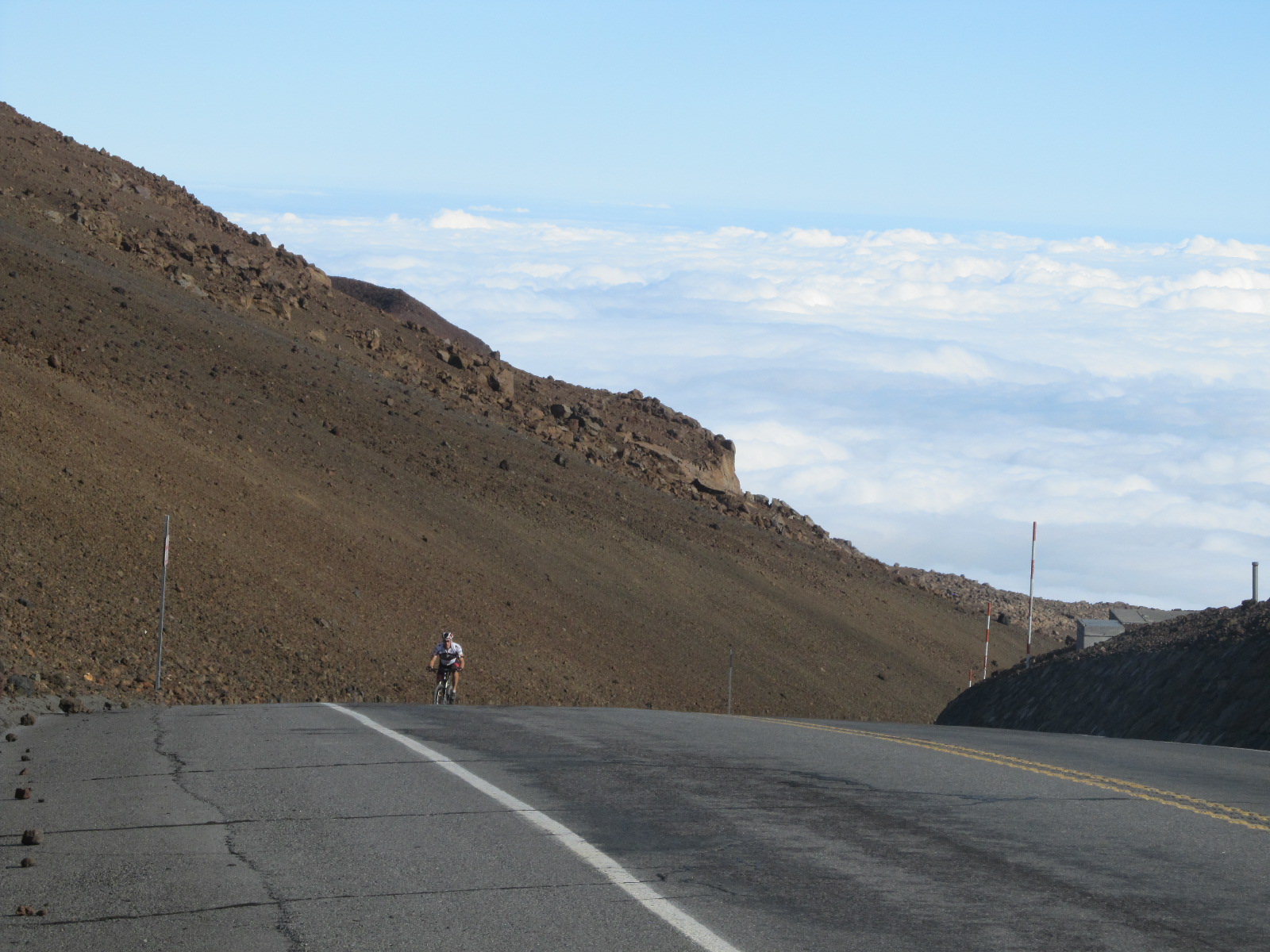 As you leave the visitor center, the paved road ends and you are greeted by a soft gravel road comprised of dirt, rocks and volcanic sand that can barely be traversed with a mountain bike let alone a road bike.  This section is just under 5 miles long with an average grade over 11% and a maximum grade of 25%.  There were times that when I looked up the road, I thought the incline I was seeing was an optical illusion as the steepness of the road didn't look real.  When riding this section of the climb, the challenge is trying to keep your bike upright as you're constantly trying to find a section of road where your bike doesn't sink causing you to spin out and ultimately fall down.  Of course your speed is probably around 3 to 4 mph so if you fall, your problem wouldn't be hurting yourself but rather trying to get back on your bike and start pedaling again up a steep grade in loose sand and gravel.
Once you mercifully make it through the gravel section, you may feel a sense of euphoria as you now have a paved road all the way to the summit.  Of course that euphoria, which is probably due to the high elevation, is quickly dashed as you realize that the next 3.8 miles will require you to climb another 2,100 feet with an average grade of almost 10%.  If the mere thought of these statistics weren't enough to scare the bejesus out of you, the giant switchback that's in front of you as you approach the summit will make you cry uncle.  To be honest, I've seen a lot of switchbacks in my time of tackling beyond classification climbs, but this one looked like as escalator in terms of steepness.  After getting to the base of the switchback, just past the 13,000 foot elevation marker, I came as close as I've ever come to quitting a climb!  The only thing that kept me going was the old saying  "pain is temporary, but glory lasts forever".  With those words echoing in my head, I did the final death march to the top.  Once I made it through the switchback, I made visual contact with the observatory as this massive landmark that I could barely see as I started my ascent from the ocean in Hilo was now right in front of me.  As I took my final pedal strokes to the summit, I looked to the heavens and gave my Dad a salute as this was a climb worthy of a great man who watched his son ascend this monster climb.  Although I didn't hit my goal of a ride under 6 hours, I was pleased with my time of 6 hours and 28 minutes.  Without a doubt, Mauna Kea is a very special climb.  The memory of this ascent is something that that I'll remember for the rest of my life as I can now finally add the world's most difficult climb to my resume.