March 2016 – Cycling and Randonneuring- What is That?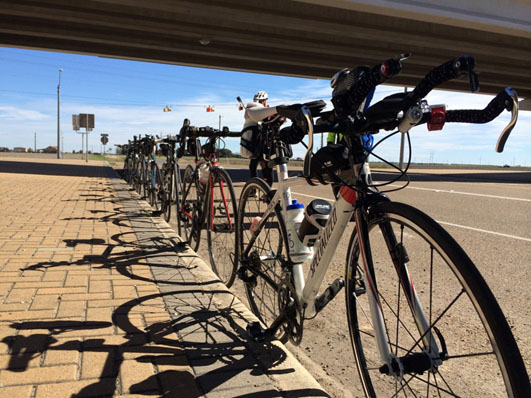 Figure 1 – Local cyclists enjoying a stop on a 200K ride
Third Article in a Series I Hope to Publish:
Randonneuring…
By Richard Cavin
So first a little background. So what is RUSA and what is a Rando?
What is RUSA?
Randonneurs USA (RUSA) is a national organization whose goals are to promote randonneuring in the US and provide service to American randonneurs and randonneuses. Established in 1998, RUSA doesn't actually organize any rides, but rather, coordinates the brevets of the Regional Brevet Administrators (RBAs) and clubs who do. RUSA also frequently acts as the interface between the Audax Club Parisien in France and American riders and RBAs, especially with regard to ensuring correct brevet result processing. You should join RUSA to help us build a future for randonneuring in the US that encourages member participation.
What is a "randonneur"?
There is no direct English translation of the French term "randonnée", which loosely means to go on a long trip, tour, outing, or ramble, usually on foot or on a bicycle, along a defined route. A person who goes on a "randonnée" is called a "randonneur". (The correct French term for a female participant is "randonneuse", but such distinctions are often lost in America, where we tend to lump everyone together). In cycling, it means a hard-riding enthusiast who is trying to complete a long randonnée inside a certain time allotment. Note that a randonnée is not a race. Overall, about the only thing being first earns is some bragging rights. It is not uncommon for the last finishers to get as much applause as anyone else. Indeed, there is much camaraderie in randonneuring. One does it to test oneself against the clock, the weather, and a challenging route – but not to beat the other riders.
In comparison to other forms of competitive long-distance cycling, such as at the Race Across America (RAAM), where there are following cars with crews supporting the riders every inch of the way, randonneuring stresses self-sufficiency. Help can only be given at the checkpoints along the route, so support crews (if there are any) must leapfrog the rider. Any rider caught receiving assistance from a support crew in-between checkpoints (or, "contrôles" as they are commonly called) will be subject to a time penalty, or even disqualification. Randonneurs are free to buy food, supplies, or bike repairs at any stores they encounter along the route. Once riders have successfully completed a 200-kilometer "brevet", they are entitled to be called a "randonneur" or "randonneuse".
Reference: www.rusa.org
Please visit the website for more info on the sport.
So why do a Rando?
I asked myself the same question in 2012 a year after I started cycling. For some reason it appealed to me. So for a little history. Around May of 2011 I decided I wanted to take up cycling as a serious hobby. For those who know me well, you might remember the "why" behind that logic.
After riding for a couple of months I decided I would ride in some local charity type events. The first two were in June and July of 2011. From then on I was hooked and realized this was fun! After about six months of cycling I became a bit bored with riding mainly alone and starting seeking out local cycling groups to ride with. Now I was really hooked.  I'll never forget riding with the Velociraptors Cycling group of Brownsville. They kept urging me to ride both Saturday and Sunday of the weekend. Never thought I could do two consecutive days of riding but they were right! Thanks to those guys; they gave me that extra push I needed when I first started riding.
In February of 2012 I was all geared up to do my first century at the Jalapeno 100 in Harlingen, TX. Even though I had trained on several rides of 80+ miles I'd never done an official century. For those who rode the rode the Jalapeno 100 in 2012 you might remember the weather was a bit crazy that day. Warm muggy start, then a cold front with rain and then super gusty winds out of the north. I was riding with a few friends and they started getting a lot of flats. One friend in particular ended up with six flats that day, so we decided to head back early and only finished with 75 miles…what a disappointment…not my first century! But we started as a group and wanted to finish as a group.
So here comes May 2012 and my next opportunity at a century ride. Not only was it a century; it was a double metric century. In other words, I would attempt my first 200K ACP Brevet Rando. Yes all 128 miles! Even some of my cycling friends thought I was crazy; but why not! So what if there was no SAG or formal support on the route, so what if I broke down on the road, no excuses. I could always call someone to pick me up. Plus I had a nice new bike I got at the beginning of May to ride.
Off to Port Isabel, TX for the start of the ride….sometimes I think "why do I do this"…I have to get up so early on my days off J I get there on time and meet the previous RBA for South TX, Edward Robinson, a really nice guy who has done a lot of Randos. Edward gives me all the details for the ride and I saw a few other people I recognized…but they were all fast and very good riders! So why the heck was I doing this, now I'm really nervous?? And then a friend I had ridden with before showed up….so I felt a little better. Needless to say, my friend struggled through the first 90 miles before having to quit due to the heat and stomach issues but we rode together for those 90 miles.
As I have since learned these long rides are an exercise in dedication, perseverance, fortitude and training. The first 60 miles were pretty good although the humidity and heat was something else. So what, it's South TX you say!!! Well riding your first 200K and not entirely sure how your body will hold up are two different stories. As mentioned above my friend really struggled and had to quit at mile 90. I waited until I was able to confirm that someone would pick her up…even though the day got hotter and hotter the longer I waited.
At mile 90 I was only five miles from where I lived but my truck was in Port Isabel; so I had to push on! Oh yeah the heat was now something, upper 90s, windy and it just seemed like I could not get enough fluids in me. I even stopped at one of those "windmill water" places (gallon for 25 cents) on Hwy 281 and ran a few quarters through…guzzling water and pouring it on my head. A man in a truck stopped by and asked me if I was OK, he said I looked like a roasted chicken J and yes I felt like one too!! I thanked him for his concern and for some ice and reluctantly got back on the bike. If I could only make it to mile 100 in Olmito, TX or FM 511 and Hwy 83 without "dying", I knew I would make it.
I drank a ton of water and sports drink in that 10 miles to Olmito…but had not really eaten any food since late morning. Well that was BIG MISTAKE, you can over hydrate; even in South TX. By the time I got to Los Fresnos, TX I had to go into the convenience store and just wait it out until some fluid was passing through my system, so I could eat something. I knew the clerk in the convenience store thought I was crazy at that point, and I wondered the same. Besides I only had to ride from Los Fresnos to Port Isabel…how hard could that be?? Constantly having to remind myself this wasn't a race!
Well the 30+ minutes rest in Los Fresnos really helped because I felt much better once I got some food in my system and got back on the bike, even though that last leg is very tough with winds I made it safely back. Whew…my first official century, double metric century a 200K to boot! Yes maybe I am crazy after all, but the sense of achievement is special.
So that was my first 200K but not my last!! I've done longer rides in one day and hotter rides also and yes I have survived them all so far….
I learned several things that day: I could do this, I somehow liked it and I realized what an average person like me could do with proper preparations and training.
Figure 1 – Riders about to leave on a 200K on a beautiful day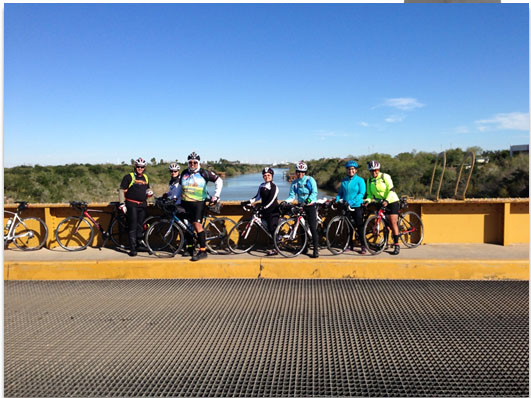 Figure 2 – Enjoying the Ride in Rio Hondo, TX – 200K (128 miles)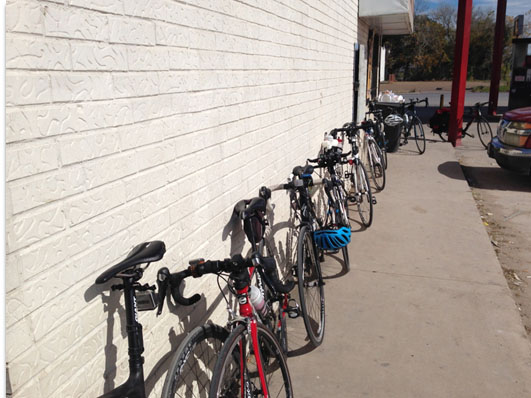 Figure 3 – Bikes lined up in Sebastian, TX on a 200K (128 mile) Rando
Now three plus years later from my first 200K I am now the South Texas Regional Brevet Administrator (RBA) for South Texas. I've hosted and organized many Rando events that have been very successful and well attended.
So if I can do it, you can too!
Richard Cavin, is a technology professional who lives and works in the Rio Grande Valley (RGV) of South Texas and is also an avid cyclist. He started cycling at the age of 57 and has ridden his bicycles over 35,000 miles in his four and a half years of cycling.
The tale of an ordinary citizen, a cyclist…..past, present and future. Why safety and awareness are so important.
If you'd like to discuss cycling, have comments on my short article and suggestions send me an email.
Until next time, Be Safe and Ride On!
Richard Cavin
Harlingen, TX
South Texas Regional Brevet Administrator (RUSA)
Email: rwc5830@gmail.com
https://www.facebook.com/groups/rgvcyclingfriends/