By Steven Amen
It's not everyday that there's a charity ride within riding distance of where I live, in Nacogdoches. Usually the closest ones are Freeze Your Fanny in Longview or The Purgatory in Lufkin, both are still a 30ish minute drive away, but I was fortunate to have the Nacogdoches' Rotary Club hold this one within 10 minutes of me.
After getting up and ready, I left my house and warmed my legs up with the spin to the Civic Center. The morning sky was grey and a little wind came from east to west, so we would be fighting the wind on the way out and a tailwind on the way back, which I find preferable. Since the ride was on home turf, most of the Nacogdoches bike club was present and I linked up with them for the ride. I did the 100 kilometer route, which I knew well because there were roads or segments of road that I ride on a daily or weekly basis.
At the start I departed with the full bike club, but after a few miles of weeding through the crowd of riders and picking my way up front, behind the wheel of Dayne Martin, a local Cat 2 racer and Texas Time Trial Champion, we linked up with Paul Carroll, a cyclocross racer from Fort Worth. The three of us dropped the pack and we rode on.
There's a joke I've heard out on a ride that casual group rides turn into a Cat 6 races, sitting behind Paul, who is a monster on climbs, and Dayne, who is presumed to be a robot born in a wind tunnel (I can't attest to the validity of that statement), it was no exception. The two in unison pushed our average speed up just under 20 miles an hour for the first 50 minutes before I hit my limit and sat up, which is perfectly fine, I enjoy riding by myself, but doing the next 50 miles seemed to be daunting after the energy expended with Paul and Dayne.
The route was littered with rolling hills interspersed with false flats that turn upwards into 2-3% gradients then into nasty kickers which would be rough enough on their own without the preceding miles.

There is a problem when you're riding a Cat 6 race, or most races anyway: any and all scenery is lost when you're concentrating on the cyclist in front of you or the road. After I had gotten dropped I was alone on a small back country road called Elbow Ridge and from then on out I would be alone for most of the duration.
Elbow Ridge Road is like most of the small country roads in Nacogdoches: it's small, and there's barely enough room for two cars to squeeze by each other, but most of the time it's desolate and covered by a tunnel of trees keeping wind and sun off, but the roads are pockmarked by trucks larger than the road can handle, creating potholes. If and when they're fixed, all that's done to them is they're filled with dirt and oil topped over again, creating an uneven surface. But this is not to say they're without merit, it's amazing to get lost on these kinds of roads.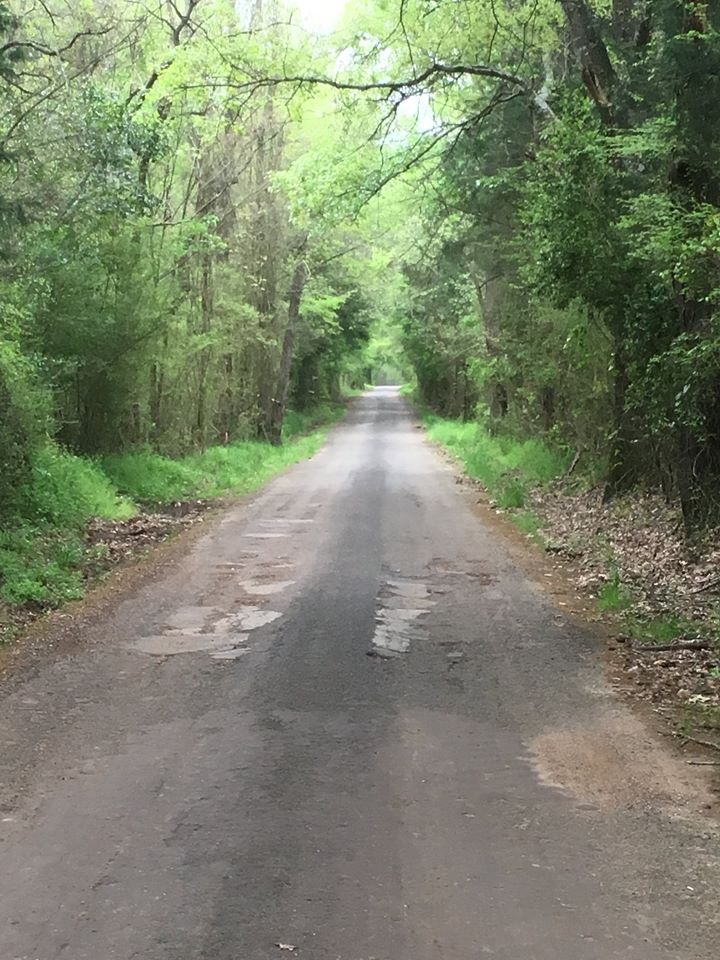 The Green Inferno
The roughness of the roads was emphasized by riding past the naturally occurring Tonkawa Springs, towards highway 95. I came out of the backwoods onto a small "highway," I use that term liberally, and it all had been, to my surprise, graveled.
95 led to a small satellite town about 15 miles out from Nac called Garrison, but there had been no warning of the gravel. It wasn't even compact gravel that you can muscle over. It was loose chunky gravel that gave me nightmares about flat tires and busted spokes.
A woman in a car pulled up next to me as I looked down the road and asked me if I was going to ride my bike on it. I shrugged and told her that I didn't have any other option. I asked how long ago they had graveled it and how much gravel there was going that direction into town. She said it had happened not too long ago and there was 2.5 or 3 miles of gravel.
When she pulled out onto the road I waited for her dust to settle before pedaling out. I was really careful with my line because, embarrassingly, I was riding dirty. For those who don't know what that is, it's where you go out on a ride and you don't bring inner tubes or a pump or C02 cartridges on a ride. If you flat your ride is over and you're waiting for SAG wagon or your annoyed girlfriend to come pick you up on some godforsaken road. For a ride on home territory I fully embraced "Death before SAG."
In Garrison, I stopped at the rest stop, filled up my bottles, and ate a banana. It was the first rest stop I actually stopped at, and I mentioned my surprise at the gravel to the locals who were working. I asked them if anyone else had come through and they described two people that resembled Paul and Dayne stopping briefly just a minute or two before I did.
I took that as my cue that I wasn't far behind, so I might be able to chase my way back to them. I left town and kept a high pace on another back-road-green-inferno that dumped out onto 95, on the south side of Garrison, and fortunately this portion of the road was smooth as glass.
After two miles of 95, the road turned off into Fitze Mountain. Fitze Mountain is just hyperbole. Perhaps before the dinosaurs, while this part of Texas was the floor of the ocean, it might've been a mountain but now it's just a hill with a long false flat leading up to a small kicker to the top of the hill. On Strava it looks much more severe than it really is. As I was climbing up Fitze, the winds changed directions and the daunting clouds from the morning cleared up some and the sun shone through.
The route took me up to 159 for a couple miles of mostly descending over rollers to the bottom of Lake Naconiche. There's a good climb into the rollers around Naconiche, but the view is always beautiful around that portion of the lake because the sky seems to open up overhead.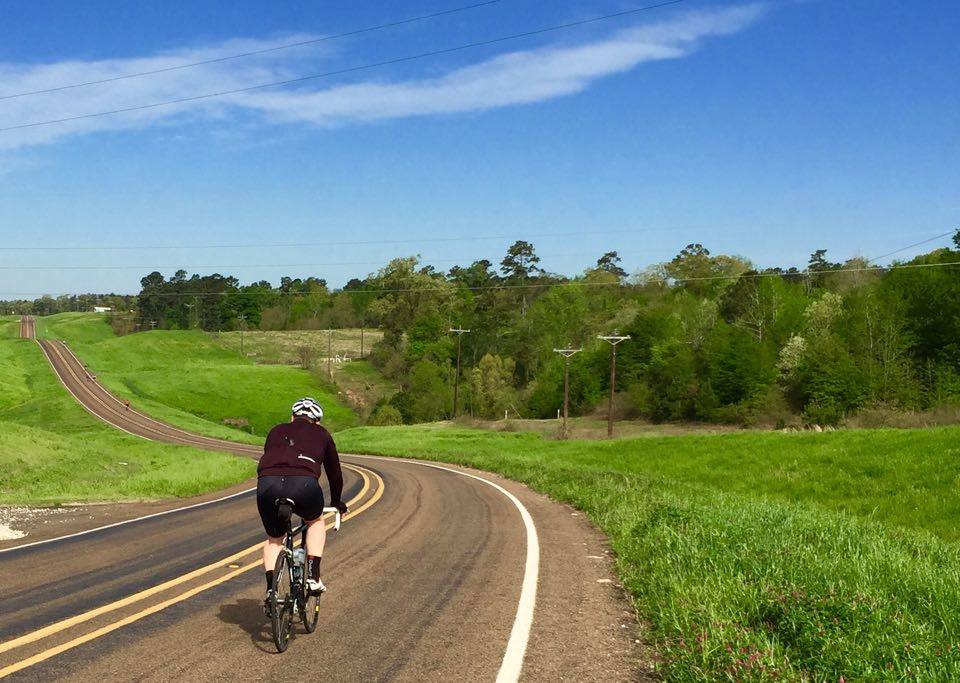 Behold, beauty!
Picture by Brian Phelps,
Model: Tom Judson
The people manning all the rest stops were fantastic, each stop I rode by they cheered no matter if I was going to stop or if I was going to keep on going. I wanted to stop at most of them, but the internal clock I had in my gut kept telling me to skip it and stop at the next. The one on the rollers of Naconiche was no exception but they had set up at the between a descent and a climb, and I had no desire to go from a complete stop at the bottom of a hill to start a climb. So I powered down and zipped on through. Another perk of a ride like this is that I knew we were about to loop back onto roads we had already ridden on and there was going to be another rest stop a few miles up the road.
I started to pass up riders from the shorter rides and I offered to pull them for as long as they could hang onto my wheel as I rode up to Geldmeier road, which was another of those false flats — for a little over a mile — before getting really steep at the top. After cresting I crossed over highway 59, uneventfully with the help of the Nacogdoches County Sheriff's department and rode onto FM 698. The road, to me would be a great road for a time trial to be held on, if it were to be 40k long: sweeping turns into rolling hills and a high average speed if you can keep your average up on the climbs.

More Beauty!
From there it was a left turn onto the Old Tyler Road, and back to the start/finish line. When I arrived back Dayne looked like he had been there for a while, Paul had already changed out of his kit. All in all, an excellent day of riding, with just under 3k feet of climbing over the 65 mile course.
Strava: https://www.strava.com/routes/4174949