By Pete Radowick
The emergence this year of Lawson Craddock as the first cyclist from the Houston area – and the only native Texan other than Lance Armstrong – to start a Tour de France recently placed a bit of spotlight on the Northwest Cycling Club junior team.
Craddock, 24, got his first taste of cycling with the NWCC juniors and today serves as an inspiration for the next generation of racers. And while Craddock was making a respectable showing across the pond in July, the current crop of whippersnappers were doing just fine at the USA Cycling Junior Track Nationals in Trexlertown, Pa.
And if you've ever been blown away by the junior team pace line on a Saturday morning group ride, as happened recently to this writer, you know these are really talented young cyclists who know how to put the hammer down.
Carl Jones, the upbeat and energetic coach of the junior team, talked about the experience at nationals and about the strength of NWCC's junior program in an interview for Wheel Brothers.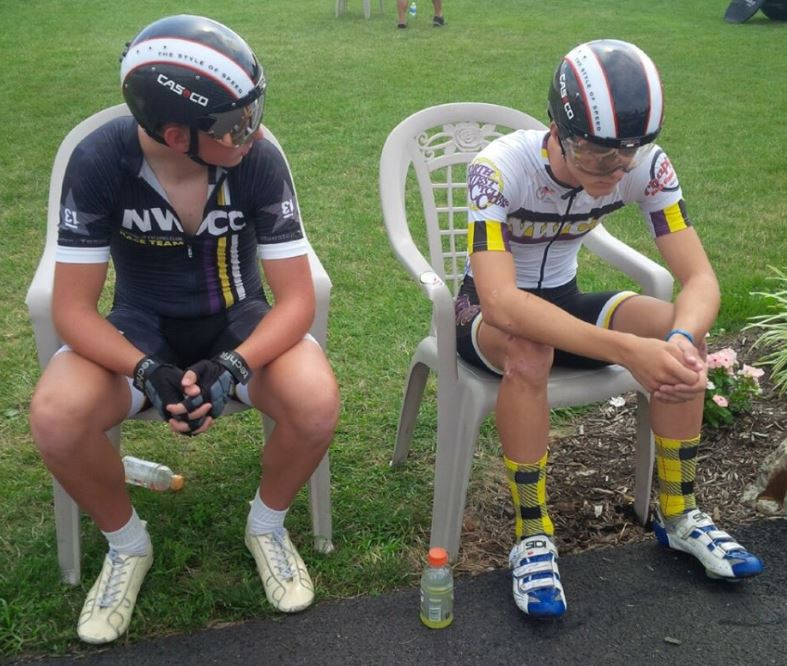 You just returned from track nationals. How'd it go?
It was a long, hot and sometimes very wet week in Pennsylvania. In spite of the heat and numerous  delays, our team of seven boys and three girls finished with a lot of successes at Junior Nationals. We didn't have gold medals this year, as we have in the past, but the kids brought home lots of hardware to show for their good training year.
We had three of our 15/16-year-old men in the Top 20 omnium and our 15-16 team sprint (Austin Laine, Josh Gibson and Max Browne) placed third for a bronze medal.
In Austin Laine, we have one of the top young sprinters in the country. He will be moving into the 17-18 category next year, and he could qualify for Junior World Championships in the next couple years if his training remains sound and he keeps progressing.
Overall results:
Austin Laine – silver medal in match sprint, bronze in team sprint.
Josh Gibson – silver medal in team pursuit, fifth (podium) in 500 time trial, bronze in team sprint.
Max Browne – bronze medal in team sprint.
Jack Chipman – fourth in team pursuit.
13-14 women – Katie Gibson 12th in omnium, Paige Zizka 15th in omnium.
13-14 men – Will Sharp, fourth in scratch race, fifth in omnium; Evan Roberts 26th, Brian Luciano 28th.
11-12 women – Mya Duncan fifth in 500 time trial.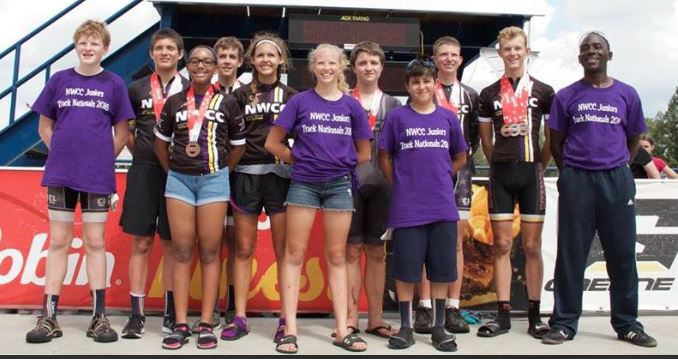 Tell us about the junior team. What is age range? How do kids find you?
The NWCC Junior Team consists of riders age 10-17 and presently we have 25 on the team. Generally, the kids find us at Alkek Velodrome. They'll either do the free summer classes we offer or they'll pop in and ask about the track during the year. We don't waste a lot of time. We put them on bikes right away to try it out, and they usually get hooked to track racing right away.
What is the easiest aspect of cycling for these kids to grasp?
Enthusiasm and learning the sport with a 'clean slate' are the easiest aspects of cycling for the team . Their enthusiasm makes it so easy working with kids. We teach cycling from the basics and they learn to become some of the most skilled riders in any group that I know. Truthfully, I would rather ride behind one of our 13-year-olds before an adult.
The hardest aspect?
Digging deep and embracing the agony and discomfort of riding hard.
How often do your kids train?
Our training year starts in November.  On average we have 4-5 ride days a week. Sometimes more, sometimes less depending on their individual training phase.
Typically, they train with high intensity intervals twice a week, on Tuesday and Thursday. Wednesday Friday and Saturday are endurance training days. Mondays are off days usually.
How often do they compete?
We race one to three times a week while in season.
What bike disciplines does the team engage in beside track?
Although track is the central discipline in cycling that we do, you will see our kids cross training and competing in road, cyclocross, mountain bikes and triathlons.
Cycling is expensive for adults. Are there means for any teen who wants to improve with better equipment?
One of the best things about starting our kids at the track is that we have the equipment available for them to progress, ride and race on.  Alkek Velodrome has a fleet of bikes for the kids to use for free or at a very nominal cost. The key with our team and equipment is that as they progress in fitness and skills, we will upgrade their equipment to match. At present we have quality track bikes, aero helmets, disc wheels, everything for 'leveling the playing field at nationals' that we put the kids on as they earn them.  To be a part of the equipment program the riders have to commit to attending Nationals and Regional Track championships.  As a side note, I've been know to purchase a lot of gear and give my own race gear for the juniors as well. The kids really learn about responsibility in this program because of this.
I can't believe how fast these kids ride. Is this a common reaction?
Yes, especially when they are motorpacing behind my motorcycle at over 40 miles and hour!
Are these kids all-around athletes who compete in other sports?
Most call cycling their main sport. They haven't been discovered by school coaches yet, thank gosh. They are honor students, French horn players, gymnasts, ballet dancers … a mix of normal kids who love racing bicycles.
Is Lawson Craddock an inspiration for these kids?
Absolutely! Since Lawson in an alumni of the NWCC team, our present juniors are really following his career. The highlight for a few of our riders was meeting Lawson last time he was in town.
Northwest Cycling Club, based in Houston, is a four-time USA Cycling Club of the Year, earning the honor in 2005, 2012, 2013 and 2014. The club rides every Saturday morning, rain or shine. To learn more, visit NWCC.bike or like the club on Facebook.