As a female cyclist enjoying long rides and races I am often asked how women solve the nature break problem. Unless we are wearing tri-shorts, a nature break involves usually an entire striptease action.
Before we deep-dive how to deal with the female nature break let's get the basics covered:
Toilet paper is usually not part of the contents in the jersey pocket. If you do choose to take some with you, I would strongly advise to put it in a plastic bag; otherwise it will be soaked with sweat. If you take some female accessories with you, I would suggest to store it in the rear pocket that you don't use while riding. That prevents awkward moments by accidentally pulling out your entire pocket content while riding.
While men can easily relieve themselves at the side of the road, what do women do? And especially when they are in male company? It depends.
Here are a few tips depending on the group of people you are with:
Solo ride
On a solo ride, it is very easy. You can either find a public toilet or a bush. It is on your terms and don't need to worry about others. Done deal.
Familiar group ride
When you are on a group ride, the story is different. While you could just stop and do your thing, the group has disappeared by the time you get back on your bike. So, it is important that the group is aware of that you are stopping. If you know the ride you probably know the location of the rest stops. If the stops are not conducive for female relief, you could let the ride leader know that you stop beforehand and they should wait until you have come back to the group or ask the ride leader to find a rest stop location more suitable for women.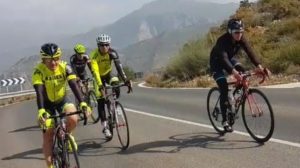 Unfamiliar group ride
With a group, you are not familiar with, you might be less inclined to proclaim your urge for a nature break. Before the ride even starts, you can introduce yourself to the ride leader (a well-organized group will have one) and ask about the ride including potential stops. When are the stops? And more importantly, where are they? If the group stops in a café, the problem is solved. Otherwise, you could ask if public facilities will be present.
In case, you did not get a chance to talk to the ride leader before the ride, you could wait for the rest stop and evaluate its suitability. If it is not suitable for women, decide if you want to look for a different spot and let someone, who has influence over the group, know. In case there is no rest stop and you really have to go, the best option is to find the ride leader and let him know. Although I try to avoid an entire group stopping for me, sometimes, there is no other option.
The tips above assume that the ride leader or the major part of the group is male. A female ride leader naturally chooses rest stops for specific female needs. But, just because the male counterpart might not be aware of requirements for a female nature-break, don't let that deter you from going on long group rides with guys. Everyone is usually very understanding.
Have a wonderful ride!
Monika Sattler
a.k.a. RAD Monika