Winter sucks. The wind carries a thousand icy knives, which cut from head to toe every time you transition from house to car, or car to destination. It's even worse if you spend any amount of time outdoors on the bike. No amount of bundling seems to cure the sharp, aching bite of the rushing air that can be can felt down to the bone. Once home, you cozy up in your best sweats and crank up the heat or fireplace, but there are still parts of you that take hours, even days to "thaw." Miserable.
So, what's a roadie to do? Head to the bar?
YES! To the Cyclebar!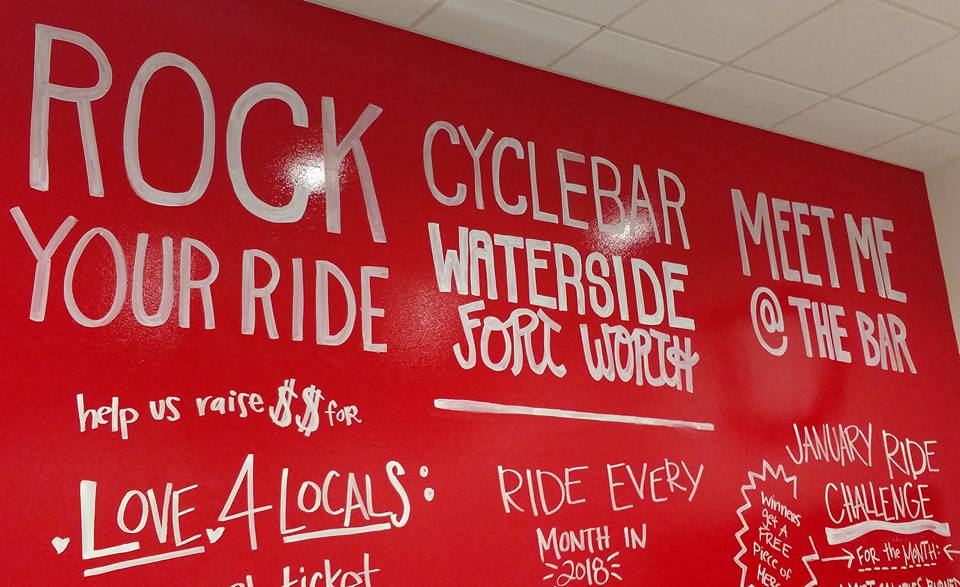 Recently, I took advantage of something that is available to every first-time rider at Waterside Cyclebar, located on Convair near REI in Fort Worth…a FREE visit at the premium indoor cycling facility! It's like spin on dope! I'm telling you now, this facility is unlike anything I've ever seen, and can keep your road game in check during the winter months. And, if you have the will and drive, this place can transform your road ride for the coming spring. But let's back up a minute…
When you go online to Waterside Cyclebar, it's like reserving your favorite recliner at the movies. Before you arrive, you get to reserve your bike! Get a front-row seat and shine, or tuck yourself in the back row. It's up to you. And, once you find a spot you love, you can save the bike as your preferred seat. About 50 bikes are available, but the experience feels very personal. The bikes are set up in a Cycletheater, where instructors are provided with a great sound system, control of concert-style lights, and a state-of-the-art program which allows them to match music and workout cadences.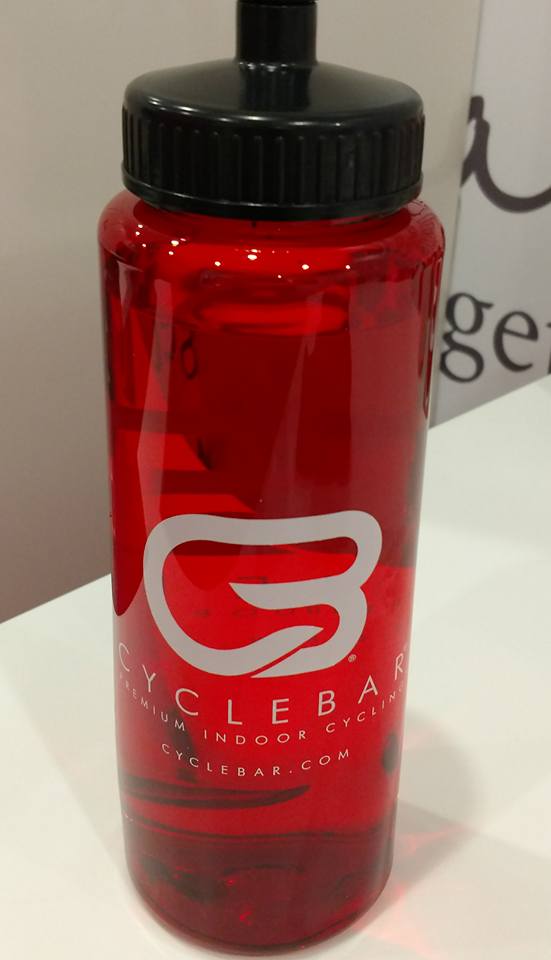 Cyclebar instructor Kim Sissen posted about Cyclebar on her Facebook page, and I promptly invited myself, though I was a little concerned because I didn't own spd clips to clip in. Well, that wasn't a problem. The Bontrager shoes are provided at each class, and then cleaned and disinfected for future riders. Apparently, you could want for nothing here! Towels are also provided—neat white towels, freshly laundered, rolled up and waiting for you on your bike. I forgot my hairband on my first visit. Also not a problem. There are jars of hairbands and earplugs (if you prefer to dull the raging concert you're about to pedal to). There are lotions, deodorants, shampoos, hair dryers…on and on and on.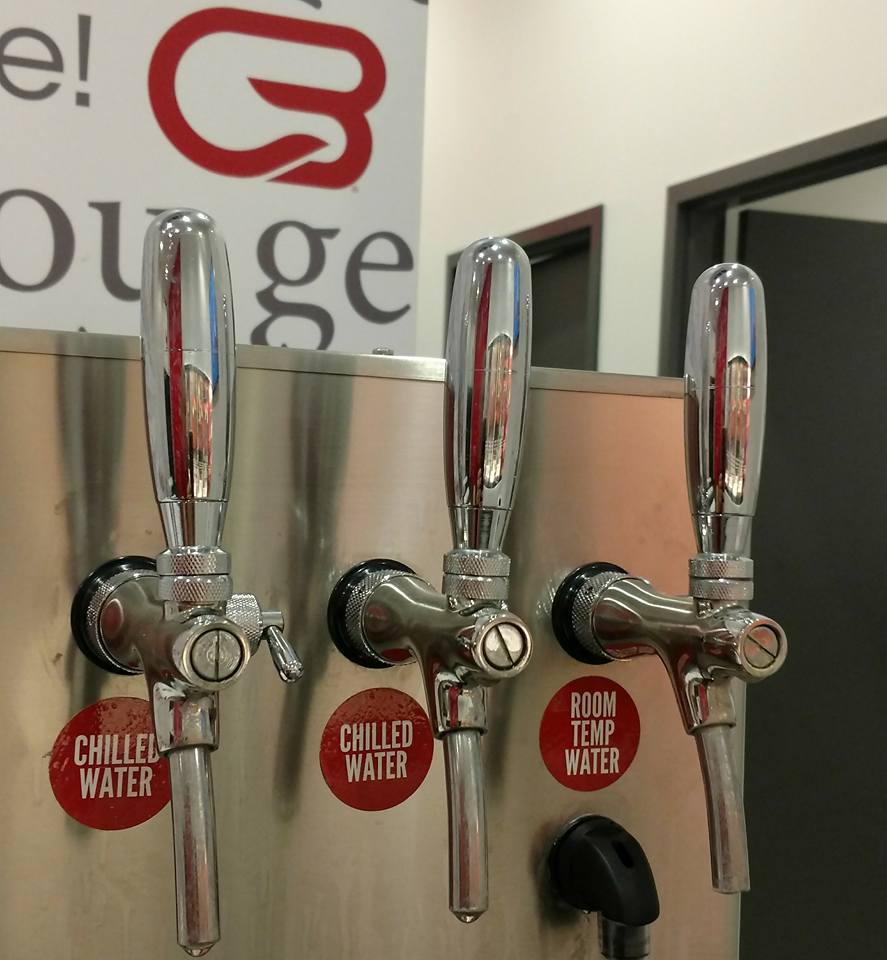 I arrived for a Monday night class with Kim. I changed from work clothes to my gym clothes and was shown to a free locker which corresponded to my bike number. The lockers are in the common area, which also provides drinking water, both room-temp and chilled. I received my complementary Cyclebar water bottle, top quality, and sat down on one of the benches and chatted with other newbies and seasoned Cyclebar riders. The music from the class ahead of us pulsated from the swinging doors like a rave.
Soon, tons of sweaty spinners emerged from the Cycletheater, clearly having worked out at their threshold. There was a pause before the next group filed in, as bikes were wiped down and towels replenished. Once you enter the Cycletheater, you know you are in for a treat… and some very hard workouts, if you embrace them.
The theater is darkened, all 50+ bikes face the instructor, and behind the instructor was a mirrored wall. I found my bike and make adjustments for fit. There were plenty of people around if you happen to need assistance with anything.
The music began, Kim welcomed everyone, and we began to spin. I barely remembered to start my Garmin…I wanted to see what this workout looks like in reference to my heart rate. But here's another surprise feature: your spin bike is programmed to YOU this session, and it has a computer attached to it that reports your stats to your online account. WOW!! This is another dimension to getting your road ride ready for spring…understanding the science behind it and having YOUR specific details. As Cyclebar describes it, "Achieve your personal best every single ride. CycleStats measure the six key metrics of your daily and historical performance <Calories, Miles, Watts, MPH, RPM, and Time> —and emails you the result after every ride to help you track the progress of your fitness journey. Your CycleStats are always available at cyclebar.com, so you can check in on your calories, power, RPM, and more at any time." Awesome! And in real time, you can see where you measure against the group as ranks are posted on the screen. Not your thing? Just make sure you have chosen an unidentifiable nickname online when you set up your account.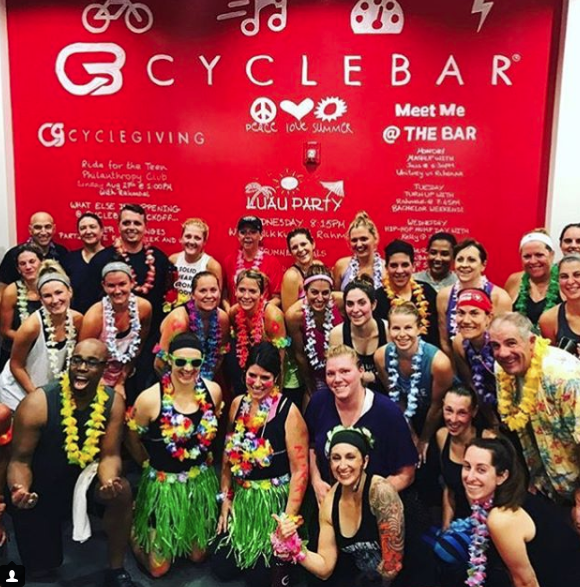 Kim lead us through a fantastic workout including spins, hill climbs, exercises that involve push-ups on the bike, standing up/sitting down…etc. New to me was the workout where we pull out a weighted bar from a holder on the front of the bike. We did light weightlifting as we spun, which also worked on abs due to balance.
It did not take me long to realize that the music and lights also helped to mask some of the pain. I was engaged and inspired to push harder and harder, knowing what great benefits this would have for my weight-loss and future rides. This spin class was a last-minute, spur-of-the-moment choice for me—I had already done a full-body workout that morning… I watched my rank and couldn't help but wonder where I'd rank with fresh legs and arms. I'll find out soon! I am already signed up for my next class.
If all of this greatness wasn't enough, there are themed nights too, and this evening was Wined Down Wednesday. Wine and cheese were served after the ride! Heaven. The theme for my next ride is Twerkout Workout with an *Explicit warning. OH MY! I'm blushing! And to bend your mind even further, you can hold fundraisers here, inviting people to pedal and raising funds for your cause. Check out the website for more details! https://waterside.cyclebar.com/info/new-to-cyclebar/
Since I have only visited once, I am sure there are details I've missed. But don't wait for me—come see for yourself! Whether you are a roadie needing to escape the winter blues or up your road game, or perhaps Valentine's Day has you staring down your love handles, get yourself to Cyclebar in Southlake, Fort Worth or Flower Mound ASAP! See you there!