What is the official name of your rally? European Tour of Texas Challenge
What is the date and start time of your rally? There are actually four different dates, and start times vary some due to this being a combination of four different events, but they are:
Germanfest Metric Century Bicycle Rally-  4/28 at 10a.m.
Bosque Tour de Norway- 5/19 at 8a.m.
Tour d'Italia Bike Rally- 6/16 at 8a.m.
and Tour de Paris- 7/21 at 8a.m.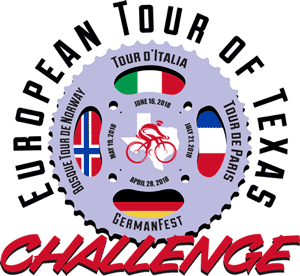 How many years has this rally been offered? This is the third year for the challenge but each of the rides included has been around longer than that.
What is the cost? When are the price increases? The price to enter the challenge is $180 and includes not just the entry into all four rides included in the challenge and the potential to receive a custom jersey after you have completed the challenge. Completing the challenge only involves the rider checking in with registration on ride day at three or four of the four rides.
When is the last day to register online? This gets a little tricky. Since it is possible to complete the challenge without attending the first event, online registration will close on the Thursday prior to the first event (Germanfest ride in Muenster, TX) so we can get the list of challenge riders imported into the list of Germanfest-only riders on Friday. But then registration for the challenge will reopen on the Monday after the Germanfest and close again on the Thursday before the Tour de Norway.
Can cyclists register on the morning of the event? Yes, at both the Germanfest ride and the Tour de Norway ride. After that it will be impossible to complete the challenge, so we don't accept any additional entries.
What bling comes with registration? This varies by event but all rides include a ride t-shirt.
Does the rally support a cause? What cause? The entry fee into the challenge is split evenly between all four rides included in the challenge after the custom jerseys have been bought and shipped out to the riders that earned them.
Here is a little more information about each of the four rides in the Challenge—the information is taken straight from the event sites, and the links are included:
Germanfest Metric Century Bicycle Rally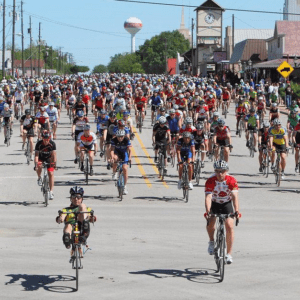 "The 100-kilometer (63 mi.), 65-kilometer (40 mi.), and 35-kilometer (22 mi.) courses are pedaled over paved roads in this beautiful and scenic North Texas area. It is a fast and challenging course. Be prepared for some long and steep climbs up rolling hills and the exhilaration you'll experience coming down!
Muenster, TX was founded in 1889 by people of German heritage and Catholic faith. This unique German community located in North Texas, of approximately 1,500 inhabitants, is a close-knit family in both kinship and kindred spirit.
This family of common heritage and faith throws one of the biggest parties in Texas, Germanfest, the last full weekend in April. This three-day festival attracts thousands to mouthwatering German sausage, scrumptious apple strudel, hearty cheeses and homemade bread, cakes and pies. So, come to Muenster and let us be your host for food, fun and frolic. Be sure to bring a 'guten Apetit.'"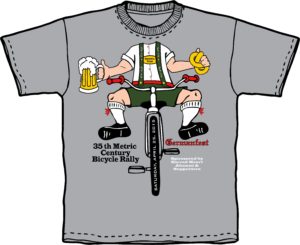 http://www.germanfest.net/home/index.php?option=com_content&view=article&id=51&Itemid=30
https://www.facebook.com/events/1563748257011728/
Bosque Tour De Norway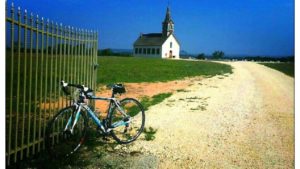 "The seventh Bosque Tour de Norway will be held on May 19, 2018. The start/finish line will be at Clifton High School. We will have 4 routes to choose from 20, 40, 60 and 80 miles. Each will allow you to enjoy the beauty of the top of Texas hill country and be riding through the historical Norse community.
The Norwegian settlement began here in 1854, the same year the county was founded, and was led by Ole Canuteson and included Cleng Peerson, 'The Father of Norwegian Immigration to America.' Thousands of Norwegian immigrants, some coming directly from Norway and others from northern states, would eventually settle between Clifton and Cranfills Gap by century's end. The Norwegian influence in the area is still very evident today, including Our Savior's Lutheran Church, site of our first rest stop, and St. Olaf Kirke, or as it is better-known, The Old Rock Church."
https://www.facebook.com/BosqueTourDeNorway/
Tour d'Italia
"The Tour d'Italia offers routes that appeal to the entire family, from 12, 30, 40, 50 and 63 miles. Whichever route you choose, you will enjoy our great rest stops featuring fresh fruit and including our special ripe plums and nectarines. SAG support is provided by our sponsoring bike shops, the Ellis County Amateur Radio Club, and volunteers from Lone Star Cyclists.
Offering some of the best views of Texas and plenty of rest stops manned by our friendly volunteers, this is a great opportunity to enjoy the beauty of country roads. This year we expect 1,500 riders to earn one of our collector-quality t-shirts. After the ride you can enjoy free snow cones, a cold drink, and a hot shower at Italy High School."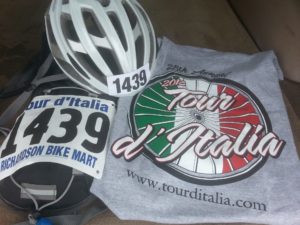 http://www.tourditalia.org/home.html
https://www.facebook.com/tourditalia/
Tour de Paris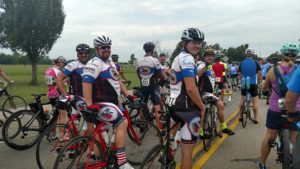 "The Tour de Paris began in 1984 with just a few enthusiastic cyclists. Since then, it has evolved into a community favorite that now boasts over 1,700 cyclists and volunteers.
Lone Star Cyclists proudly sponsor the 33rd Annual Tour d'Italia. Benefiting Italy High School, the Texas Scottish Rite Hospital for Children, and other North Texas charities, Tour d'Italia enters its 33rd year, bigger and better than ever. Join over 1,700 riders to earn one of our collector-quality t-shirts and post-ride snow cones! You must pre-register to be guaranteed a shirt. Camping is available at the high school, and in the air conditioned gym.
Current routes available are: County (Road) Rides are offered at 20, 35, 57, 68, and 80 miles and NEW! Northeast Texas Trail Ride are offered at 14 & 25 Miles.
Meals (pay onsite)
June 15, Friday evening @ 6:00 pm – Spaghetti Dinner, $6 All You Can Eat
June 16, Saturday morning – Pancake Breakfast, $5 All You Can Eat
June 16, Saturday lunch – Hamburgers $3, Hot Dogs $2, & Bar-B-Q Sandwiches $5
Proceeds for these support Italy High School.
After the ride: Enjoy free snow cones, a cold drink, and a hot shower at Italy High School."
https://www.facebook.com/TourdeParis/
Remember, once you have registered for the European Tour of Texas you do not have to register for the rides separately. They have a special check-in table for Euro riders and we know that one absence is allowed for the entire tour.