Phew! Check out the abundance of awesome events we have in store for you this weekend! How to choose?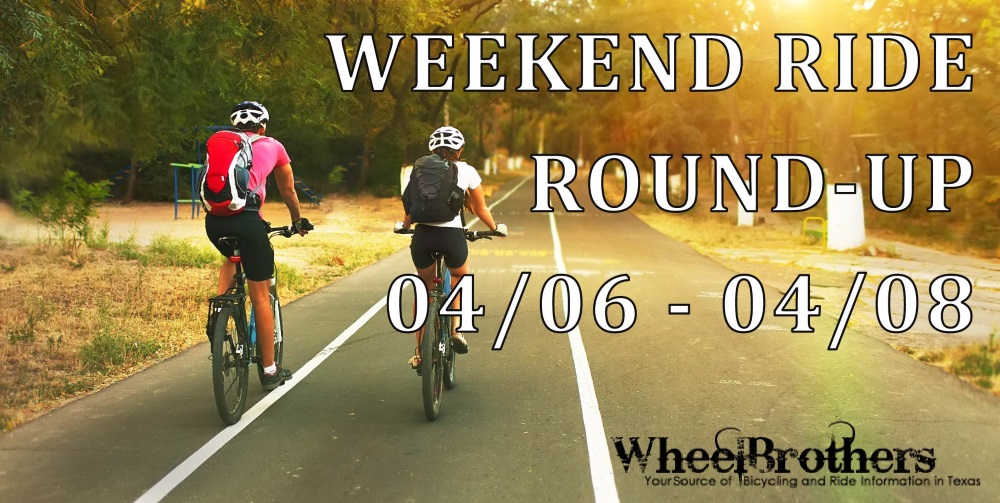 Friday, April 6th – Sunday, April 8th:
Bessies Creek 24 – Brookshire, TX
Bessies Creek races are endurance events, how far can you ride in 6, 12 or 24 Hours? Can you ride 514 miles in 36/48 Hours? Come to Bessies in 2018 and find out!
Saturday, April 7th:
Tour de Castroville Walk/Run/Ride – Castroville, TX
Join the 7th Annual Tour de Castroville Walk/Run/Ride on a scenic loop through Castroville and into the neighboring towns of LaCoste and Rio Medina.
Ark-La-Tex Challenge – Texarkana, TX
The 6th Annual Ark-La-Tex Challenge offers both novice and experienced cyclists a ride unlike many others. This ride will allow you to ride through three states in one ride. We offer five different distances to accommodate different cyclist levels.
Castell Grind – Castell, TX
The Castell Grind is comprised of three separate endurance gravel races, the Full Grind 100K 3/4 Grind 72K Half Grind 50K. All races will begin in Castell following remote gravel roads through the rolling Texas Hill Country in the middle of nowhere.
Rosedale Ride – Austin, TX
The 24th Rosedale Ride is an annual charity bicycle ride with routes of 23, 42, and 62 miles and a children's fun ride of 2 miles.
Salado Smokin Spokes Ride – Salado, TX
SMOKIN' SPOKES BIKE RIDE is a Texas bike ride event sponsored by the Salado Texas Volunteer Fire Department. 100% of the proceeds go to our department. This is one of our major fundraisers of the year!
Schlumberger Education Expedition – Missouri City, TX
The 15th annual Schlumberger Education Expedition Bike Ride promises to provide a quality ride whether you are training for the all-important BP MS150 or just wanting a great day with friends.
Liberty Freedom Ride – Liberty, TX
The Liberty ISD Education Foundation presents the 3rd Annual Liberty Freedom Ride featuring more ride distances – 2 mile social ride, 20, 32, 44, 61 and 79 mile rides.
Head for the Hills – Chappell Hill, TX
Enjoy an exhilarating ride through the hills of northeast Washington County while partaking of a visual feast of bucolic scenery and, with the cooperation of Mother Nature, a magnificent of display of wildflowers. Route distances: 26, 43 and 62 miles.
Sunday, April 8th:
Bluebonnet Express – Waller, TX
The 28th annual Bluebonnet Express will start from the Waller ISD Stadium in Waller, Texas, 45 miles NW of Houston. This fully supported ride is one of the Houston area's oldest rides and is presented by Northwest Cycling Club. Route distances: 25, 35, 55 and 75 Miles.
Wherever you choose to go this weekend, enjoy the nice weather and have fun! Ride on!