Do you have plans for this weekend? If not, why don't you check out these awesome rides, maybe you'll find something to your liking! Check out these ten events happening all over Texas: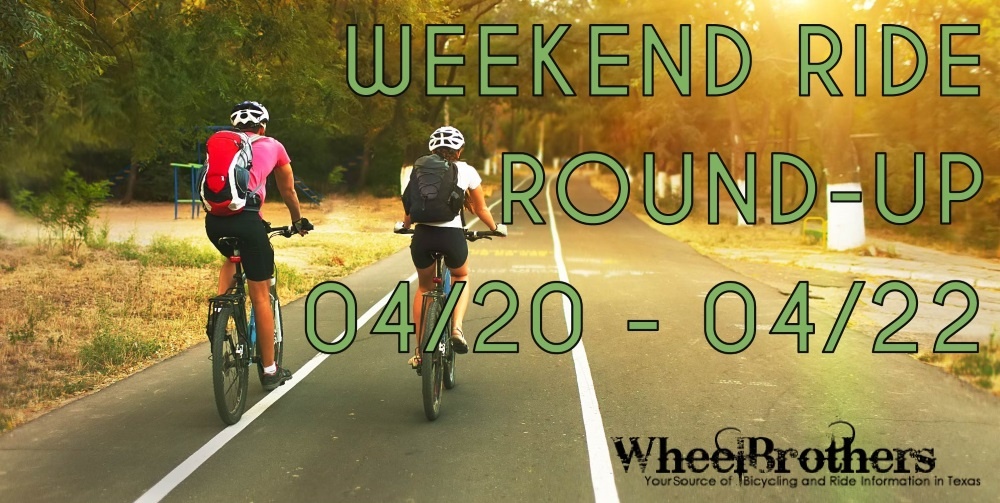 Friday, April 20th – Saturday, April 21st:
Texas Ultra Spirit – Fayetteville, TX
This event is part of the Texas Ultra Cup Challenge, offering a 7.5 mile loop, featuring lightly traveled country roads.
Saturday, April 21st:
Fish Fry and Bike Ride – Avery, TX
Avery Community VFD Spring Fish Fry fund raiser and annual bicycle gravel grind. Route follows the NETT trail and portions of the RAT (Ride across Texas) gravel routes. Routes: 13 and 25 miles.
Red Poppy Bike Ride – Georgetown, TX
This year is the 14th annual Red Poppy Charity Bike Ride benefiting the Williamson County Children's Advocacy Center, Sertoma of Georgetown and the Georgetown Police Department Bike Program. The family friendly ride has 5 routes ranging from 12-100 miles.
Tour De RACHA – Waller, TX
Family Ties' 9th Annual Tour de RACHA is just around the corner. Please join us in our effort of "Miles Today, Kids to Save". Offering routes of: 26, 48, and 62 miles.
Red Balloon Run and Ride – Plano, TX
Red Balloon Run & Ride is benefiting Children's Medical Center. Bike: 72 miles; 57 miles; 36 miles, 23 miles and 5k. Run/Walk: 1k and 5k.

NoPolio100 Bicycle Rally – Sherman, TX
Have a great day riding and relaxing, knowing proceeds will be going primarily to support Rotary International's "End Polio Now" campaign and matched 2:1 by the Bill and Melinda Gates Foundation. Then join in at the Finish Line party sponsored by 903 Brewers. 50K and 100K routes.

Tour de Cypress Ride and Run – Mt. Vernon, TX
Tired of all the traffic and noise of the city? Forget crowds, forget the hassle and come to Mount Vernon to ride Tour de Cypress on shaded country roads. You'll get a free gourmet chicken wrap, free beer, and a wonderful, warm welcome. Featuring a 10-Mile family ride, 30, 45, 52 and 62.5 miles.
Caprock Gravel Grind – Southland, TX
The Caprock Gravel Grind is a gravel grind consisting of a 50K grind, a 100K grind, and a 100 mile grind beginning and ending in Southland, Texas on the Llano Estacado.
Sunday, April 22nd:
Tour de Braz – Alvin, TX
The 25th Annual Tour de Braz Bike Ride, presented by Alvin Convention & Visitors Bureau and primarily sponsored by Associated Credit Union of Texas, will be offering routes of 10, 34, 50, 68 and 100 miles.
Fiesta Wildflower Ride – San Antonio, TX
This is the 13th Anniversary of Fiesta San Antonio's only cycling event. Our charity partner is Morgan's Wonderland. Route distances will range from 20-62miles.
Enjoy your weekend riding and stay safe!