Get ready to ride this weekend, as we bring you no less than ten amazing cycling events in four states!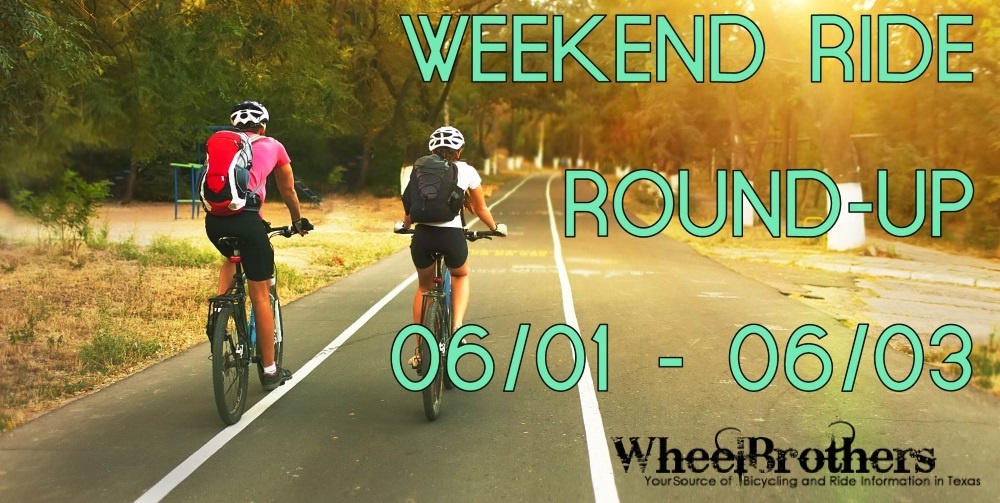 Saturday, June 2nd:
Dallas Police Cycling Team's Ride to Remember – Dallas, TX
We will ride two-by-two as we make our way to all 7 Dallas Police Department's substations and DART Headquarters with a Dallas Police escort. The Dallas Police Department has lost 85 officers in its history as a department, each mile ridden will be in remembrance of a fallen Dallas Police Officer who made the ultimate sacrifice serving the Citizens of Dallas.
Tour de Rock – North Little Rock, AR
Tour de Rock is an annual bicycle ride in North Little Rock, Arkansas that benefits CARTI, a not-for-profit health-care organization that provides the finest-quality radiation therapy and compassionate patient care to cancer patients in Arkansas and the surrounding states. Route distances: 25, 50, 62, 80 and 100 miles.
22nd Annual Magnolia Bike Tour – Durant, OK
The 22nd Annual Magnolia Bike Tour will offer route distances of: 10, 24, 41, and 67 Miles.

Possum Pedal Bike Ride – Graham, TX
Over twenty years ago the Possum Pedal 100 was created by the Rotary Club of Graham, drawing thousands of cyclists and crowds for miles around and was one of the most popular early Spring rides in north Texas and southern Oklahoma. Route distances: 6, 21, 27, 37, 51, 67, and 83 miles.
Texas 4000 ATLAS Ride – Lampasas, TX
The 2018 Texas 4000 ATLAS Ride Presented by BHI is a celebratory cycling event on June 2, 2018 in Lampasas, TX. The ATLAS Ride is a kick-off to the summer and an opportunity for friends, family, and members of the community to ride with the 2018 Texas 4000 Team on day 1 of their 70 day journey from Austin, TX to Anchorage, AK!
Tour de Forrest -Atlanta, TX
Join us for a 19, 36 or 50 mile loop ride through the beautiful Piney Woods of Northeast Texas. All routes are supported and have multiple rest stops. Registration includes admission into the Atlanta Forest Festival that evening.
2018 San Marvelous Race Series #3 – New Braunfels, TX
The San Marvelous road race is a four date series.  The next date is Saturday, June 2 and the last one is Saturday, June 30.  We stage at the D&R Rivercity RV Resort (near IH-35/York Creek Rd) with an awesome after party at Ruggedman Brewing. Route distances: 50, 75, and 100 miles.
Saturday, June 2nd – Sunday, June 3rd:
24 Hours in the Canyon – Canyon, TX
The only simultaneous 24 hour road and mountain bike event in the country. 24, 12, & 6 hour options as competitive races as well as a non-competitive option.
Sunday, June 3rd:
Heart of Hope Life Cycle – Keithville, LA
LifeCycle is a community-friendly bike tour for cyclists of every age and skill-level. We offer a challenging event for the Lycra-loving, hard-core cyclists, and also a fun and non-intimidating event for leisure cyclists and families. Route distances: 5, 14, 26, 48 and 62 miles.
Fayetteville Good Ole Summertime Classic – Fayetteville, TX
The mission of Fayetteville Cycling is to raise awareness of bicycling in our community and promote a healthy and active lifestyle through our love of cycling. We strive to provide a safe and friendly environment for cyclists, events and service projects in our area. Route distances: 8, 25, 35, 50, & 65 miles.
Have a great weekend and if we're missing some rides in our calendar feel free to let us know!