While brainstorming a detailed comparison of online shopping for cycle gear versus visiting your local bike shop (LBS), a perfect example of the pros and cons unfolded right inside our store.
Taylor H. of Keller is preparing to head to college this August. She decided a bike was a smarter investment than paying exorbitant university parking fees, not to mention a great way to avoid the stress of finding a parking spot every time she went to class.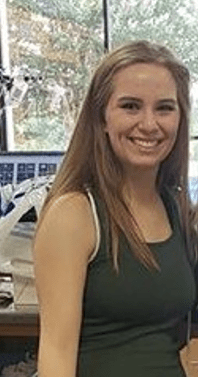 "I haven't ridden a bike in ten years. As the saying predicts, I still know how to ride; however, I had no clue what buying my bike entails.  If I had stuck with my original plan of buying online, I know for a fact my bike would be the wrong size. I didn't even know that was a thing! And my helmet would be wrong too."
While Taylor is absolutely right to second-guess buying online for sizing reasons, sizing a bike is just the beginning of what might surprise you about the necessary considerations for choosing your ride. If it's been one decade or two—or more—since your last bike ride, MUCH has changed in the world of cycling. The science behind components, frames and design has completely transformed your options. This includes Women's Specific Designs (WSD), for example, which came into play for Taylor. And while you can read all about the latest trends in magazines and with online distributors, you cannot hope to experience those differences until you settle into a saddle, turn the cranks, test the gears, squeeze the brakes and take a ride. No online experience can compare.
Taylor test-rode the Specialized Alibi, a comfort hybrid specifically created to be a low-maintenance bike, perfect for college students commuting to class.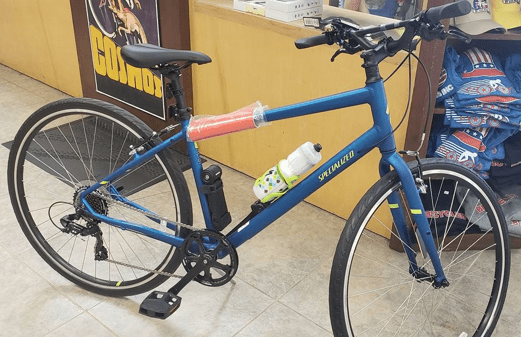 The Alibi is ideal for someone like Taylor because it features solid, puncture-proof tires, so she'll NEVER have to change a flat. Additionally, the bike's chain is coated to fight the elements (dirt, rain, rust), further reducing the need for maintenance while she's away at college. Our shop provides lifetime adjustments to any customers who purchase bikes with us, so when Taylor comes home on weekends or breaks, she can roll her Alibi into the store to address any concerns she may have with brakes or gears with our service guys. She'll be able to speak directly to the mechanic, and sometimes be invited behind the service desk to learn and work on her bike in the mechanic's stand. Nothing can rival the value of personal service and long-term relationships of professionals who love bikes and take pride in their work.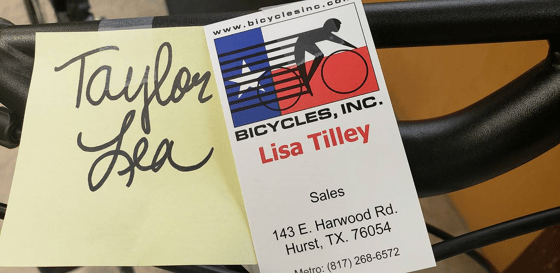 We all get the allure of the online sale…it's dirt cheap and sometimes you get it the same day you order it, which still shocks some of us more accustomed to snail mail back in the day. It truly is instant gratification for that thing you didn't know you needed until today, when suddenly you really needed it by yesterday! But just like anything cheap, more often than not it's "one and done." It's not the right size. It doesn't work. It arrives damaged. And the minute you need help in human form, you realize you've been ghosted.
What if we replayed the story?  Say you ordered from a human in the service department at your LBS who walked you through exactly what you needed. You waited up to a week for your part or accessory, which was considerably more likely to be what you needed. Even if it wasn't what you needed, was someone there to hear, respond and act on your behalf? You want your dollars spent on real people who love the sport as much as you do, who give back to it in a thousand different ways every single day—not on a warehouse turning out maximum product without a care beyond delivery.
"There's also something to be said about how someone's love of riding can make you even more excited about beginning yourself. I thought I'd have my bike for school and that would be that, but seeing all the options riding has to offer has me excited to start trails of my own."
Of course, this response from Taylor made my heart soar! Yes, there are so many choices for adventure! Because Taylor visited the store, she could physically see the road bikes, dual sport hybrids, comfort, BMX and mountain bike options we had to offer. I could share a few short stories of riding and racing with my club and my friends, and she could begin to see where she could fit in the greater cycling world she didn't even know existed before she walked in the door. At your LBS, the sales department welcomes you to the family, begins the relationship, and the service sees you through to the next bike.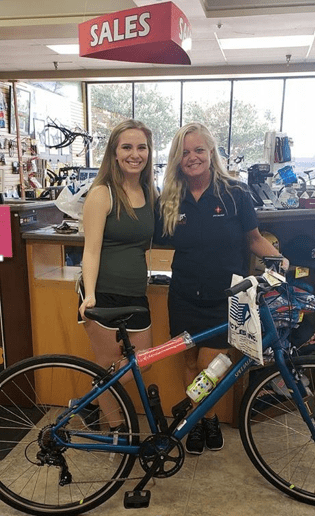 As Taylor returns for service, fit adjustments and additional bikes, the "Norm" factor from Cheers will begin to take effect. Some of her LBS staff will remember her name, while others will remember that she's a thespian, and others (like me!) will be waiting to see what races she wants to pedal beyond school grounds. We will greet her with friendship, make our comments, ask our questions and answer hers. We will work continuously with her to be sure she is COMFORTABLE on her bike and HAVING FUN—the two biggest indicators that she will ride her bike long-term. Can Amazon do that? I don't think so.
Taylor's 2018 Specialized Alibi is accessorized with the following:
Kryptonite Keeper Folding Lock
Specialized Zee Cage II Lt Composite (For Lefties)
Blackburn See and Be Seen Front/Rear Combo Lights 350 Lumen/20 Lumens
Lisa Tilley is a contributing writer for Wheelbrothers, is a member of Forth Worth based MBBC, and is in sales at Bicycles inc.