The 24 Hours in the Canyon page, provides you with the official registration information, ride distances etc. and if you scroll down a bit, videos, interviews and ride reports for this event. If you don't see a ride report and you participated in the event in the past, feel free to type something up and we'll add it here!

Date: June 2-3, 2018
Event: 12th Annual 24 Hours in the Canyon
Route Distances: 24, 12, & 6 hour options as competitive races as well as a non-competitive option
About the Ride:
The only simultaneous 24 hour road and mountain bike event in the country.
Q: Do I really have to ride for 24 hours?
A: The short answer is NO… unless you are racing competitively.  While there will be many people who will complete (or attempt) the 24 Hours solo, most participants choose to go about it as a team.  Non-Competitive teams may be made up of as many riders as you would like.  Your team may choose to attack the 24 Hours in many ways.  Here are examples of what some teams have done:
Assign hours to a specific rider so they know when they are riding.
Each rider rides when they want and for as long as they want.
Everyone sticks together – ride as a team & rest as a team
What's New for 2018
24 Hours in the Canyon is ever evolving.  We try to keep things fresh and make changes that benefit the event as a whole.  This year is no different, except that there are 7 new things that you need to know for 2018!  Whoa – SEVEN?!?  Yes, seven new changes that may impact what you sign up for.
Take a look below.  We think you'll like what we've done!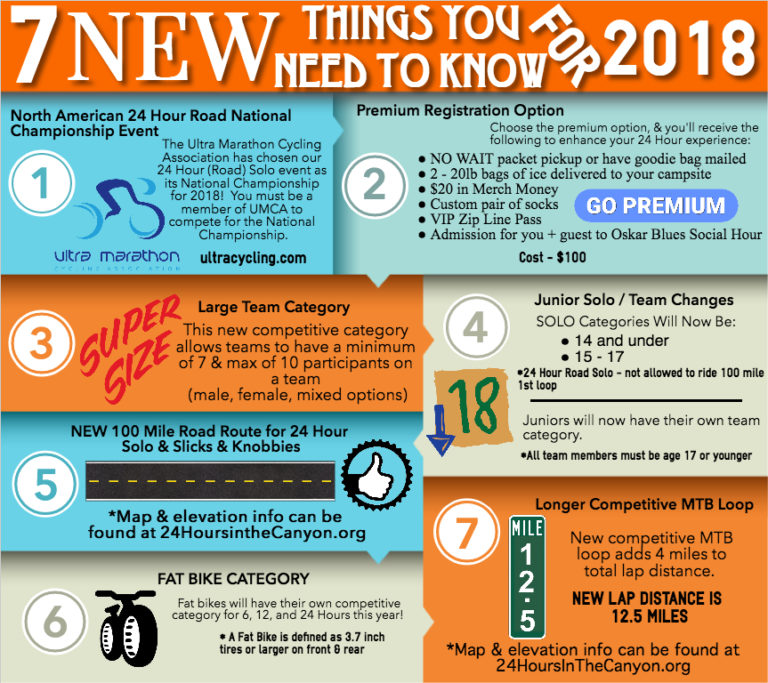 Location: Palo Duro Canyon State Park – Canyon, TX
Event Website: www.24hoursinthecanyon.org
Registration details: Online registration
Contact info: info@24hoursinthecanyon.org
Find more information about other rides on our mainpage