The 3 State 3 Mountain Challenge page, provides you with the official registration information, ride distances etc. and if you scroll down a bit, videos, interviews and ride reports for this event. If you don't see a ride report and you participated in the event in the past, feel free to type something up and we'll add it here!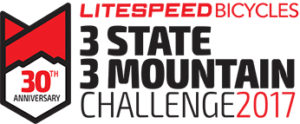 Date: May 6, 2017

Event: 30th Annual 3 State 3 Mountain Challenge

About the ride:
Join the Chattanooga Bicycle Club, Litespeed Bicycles and George Hincapie as we celebrate the 30th Anniversary of Tennessee's biggest bike ride.
Choose the Century Challenge with 6883' of climbing or take on the 64 mile course with 4295' of elevation. The 25 mile route tours 2 states with a pro?le that is more beginner friendly.
KOM/QOM COMPETITION  All Century riders participate. Male & female winners receive LITESPEED T5 frames!
Location: Finley Stadium, 1826 Carter Street Chattanooga, TN  37408
Event Website: http://3state3mountain.org/
Registration: Online registration via Active.com
Find more information about other rides on our mainpage