The Autumn in Bonham Bike Rally page, provides you with the official registration information, ride distances etc. and if you scroll down a bit, videos, interviews and ride reports for this event. If you don't see a ride report and you participated in the event in the past, feel free to type something up and we'll add it here!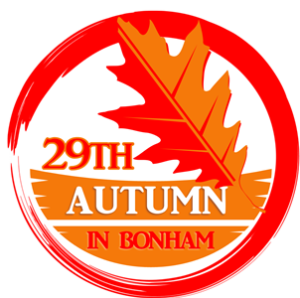 Date: September 29, 2018
Event: 29th Annual Autumn in Bonham Bike Rally
Route Distances: 13, 26, 47, 67, 83, and 100 miles; Gravel Routes: 30 and 44 Mile Route
About the Ride: 
New to the 2018 Autumn in Bonham are two gravel routes.  All routes begin at the newly renovated Bonham High School.
Also note that Autumn in Bonham features one of the few 100 miles rides in the state. 100 mile riders must arrive at the 45 mile rest stop by noon or be redirected to the 83 mile route. Rest stops are approximately every 10 miles.  The routes are all on State Highways or Texas County Roads through mostly farmland. The three longest routes cross the North Sulphur River a few times for some great hill options. The Eight Rest Areas will have some great homemade snacks in addition to drinks for all the riders. You can view the specific routes by clicking on the route of interest and then viewing the Ride with GPS route display.
Any changes to schedule or activities will be listed on the Autumn in Bonham Facebook page.  The Facebook page also has links to places to stay in Bonham.
T-SHIRT SALES WILL END ON 9/12/2018 –  NO T-SHIRTS WILL BE AVAILABLE THE DAY OF THE EVENT
ONLINE REGISTRATION WILL OPEN May 1, 2018
Location: Bonham Chamber of Commerce, 327 N Main, Bonham Tx
Event Website: Facebook Page   |   Facebook Event
Registration details: Online registration via BikeReg.com
Contact info:  bonhamchamber@cableone.net
Find more information about other rides on our mainpage