The Bike MS: Round-Up Ride page, provides you with the official registration information, ride distances etc. and if you scroll down a bit, videos, interviews and ride reports for this event. If you don't see a ride report and you participated in the event in the past, feel free to type something up and we'll add it here!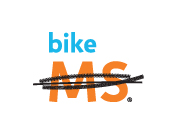 Date: May 4-5, 2019
Event: Bike MS: Round-Up Ride 2019
Route distances: 163 miles
About the Ride:
The Bike MS: Sam's Club Round-Up ride is a 2-day fundraising cycling event. This ride is a 163-mile journey, with a variety of route options beginning in Frisco, Texas. The Day One route ends along the shores of Grapevine Lake, and Day Two finishes along the bricks of Fort Worth's Sundance Square.
Your participation will drive MS research forward faster and deliver services to those who face the challenges of MS every day so they can live their best lives.
› Rider & Team Resources
› Fundraising Tips
Our how-to videos on our online fundraising tools will help you become a fundraising pro in no time!
Location: Frisco to Fort Worth
Website: nationalmssociety.org
Registration details: Online Registration
Contact info: FundraisingSupport@nmss.org
Find more information about other rides on our mainpage