The Bike The Bend For Literacy page, provides you with the official registration information, ride distances etc. and if you scroll down a bit, videos, interviews and ride reports for this event. If you don't see a ride report and you participated in the event in the past, feel free to type something up and we'll add it here!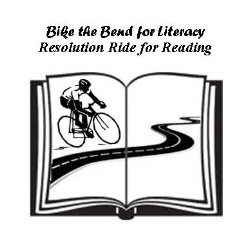 Date: Sunday, January 7, 2018 – 9:00 am
Event: Bike The Bend For Literacy
Route Distances: 20, 35 and 62 mile
About the Ride: This popular event is the perfect opportunity to get some exercise, enjoy the scenery of Fort Bend County, prepare for the MS150 or just spend some quality time having fun with your family, friends and neighbors. Cyclists return year after to year to enjoy this event, which includes scenic 20, 35 or 62 mile routes in Fort Bend County. We supply snacks, ride marshals for safety, ample signage to help along the route and a cheering section to greet riders at the finish line! There will also be local food trucks on hand to purchase lunch. YOU can make a difference by participating in the ride to end illiteracy in Fort Bend County.
Due to planned construction in the area, there will be changes to the route.
2018 Route Changes will be made available soon.
2018 PACKET PICK UP LOCATIONS
*Packet Pick Up Will Be Available on Ride Day*
Thursday, January 4, 2018 | 11am – 1pm & 4pm – 6pm
Society Cycle Works
13425 University Blvd., Suite 100, Sugar Land, 774792018 PACKET PICK UP LOCATIONS
*Packet Pick Up Will Be Available on Ride Day*
Thursday, January 4, 2018 | 11am – 1pm & 4pm – 6pm
Society Cycle Works
13425 University Blvd., Suite 100, Sugar Land, 77479
$35 Early Bird Registration
until October 16th
Location: Foster High School, 4400 FM 723 Rd, Richmond, TX
Event Website: www.ftbendliteracy.org
Registration Details: Online Registration
Contact Info: 12530 Emily Court, Sugar Land, TX 77478
Office: (281) 240-8181   Fax: (281) 240-8242
Find more information about other rides on our mainpage