The BP MS 150 Houston Tour page, provides you with the official registration information, ride distances etc. and if you scroll down a bit, videos, interviews and ride reports for this event. If you don't see a ride report and you participated in the event in the past, feel free to type something up and we'll add it here!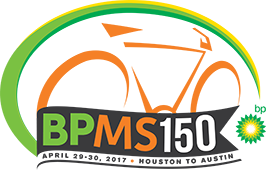 Date: April 27-28, 2019
Event: BP MS 150 Houston Tour
About the Ride:
The BP MS 150 is a two-day fundraising bike ride organized by the National MS Society. The ride is the largest event of its kind in North America, with 13,000 cyclists, 3,500 volunteers, and countless spectators along the route and at the finish line in Austin. The fundraising goal for the 2018 BP MS 150 is $14 million dollars to bring hope to many who are affected by multiple sclerosis.
Your participation will drive MS research forward faster and deliver services to those who face the challenges of MS every day so they can live their best lives.
Location: Houston to Austin
Website: http://biketxh.nationalmssociety.org
Registration details: Online Registration
Contact info: bpms150@nmss.org or call 713-394-2900
Find more information about other rides on our mainpage