The Bark, Bike & Brews page, provides you with the official registration information, ride distances etc. and if you scroll down a bit, videos, interviews and ride reports for this event. If you don't see a ride report and you participated in the event in the past, feel free to type something up and we'll add it here!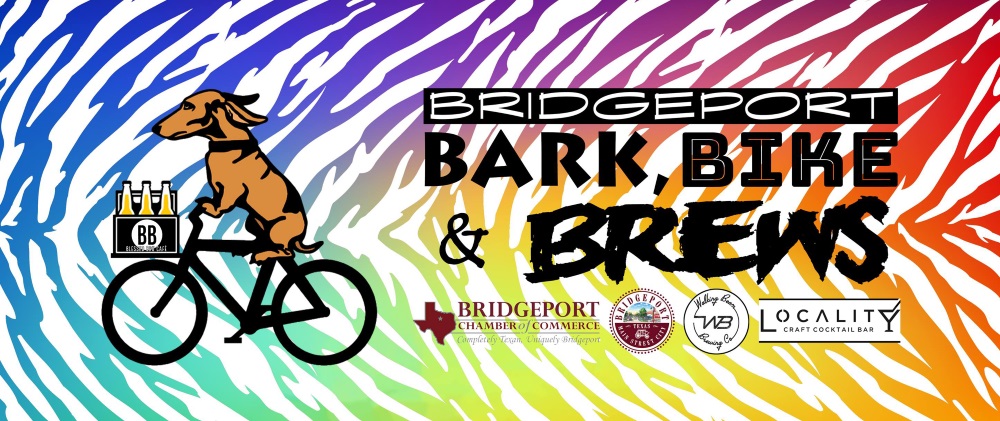 Date: March 28, 2020
Event: Bark, Bike & Brews
Route Distance: 9, 30 & 65 miles
About the Ride:
Experience Bridgeport and the surrounding Wise County area the best way possible, by bike! We think we have some of the best roads for cycling in North Texas and we're ready to share our secret with the annual Bike & Brews rally. All routes start and end and the Bark, Bike & Brews main street festival so bring your whole family (including the dog) for the festivities including a pet parade, kids' bike parade, street vendors and more. You'll be able to enjoy brews of coffee at BlessedBru Cafe, plenty of beer brewed at Walking Beam Brewery, artisan cocktails crafted at Locality Cocktail Bar and any one of our main street eateries. As for the routes…
9 Mile: An out-and-back route for those who want to go see the live tigers at the C.A.R.E. animal sanctuary rest stop but get back to the main street festivities as soon as possible.
30 Mile: After viewing the majestic tigers, this route loops East to Paradise for a 2nd rest stop and back North to Bridgeport via some amazingly scenic and smooth county roads.
65 Mile: From C.A.R.E. this route heads north to Lake Bridgeport where you'll experience some fun punchy climbs and great views of the lake via the spillway dam. The roads north to Chico are normally low traffic but please ride close to the shoulder on all "painted" roads. After the 2ndrest stop in Chico we're back on secluded country roads all the way to Alvord where there is no official rest stop but plenty of convenient stores to refill water bottles. From Alvord to Decatur is some of the best roads for cycling if you enjoy rolling hills. At the Decatur square a rest stop will be provided by Trinity Street Coffee Bar. From Decatur it's all beautiful and smooth country roads back to the festivities and beer in Bridgeport.
Location: 812 Halsell Ave, Bridgeport, TX 76426
Event Website: Facebook page   |   Facebook event
Registration details: Online Registration via BikeReg.com
Contact Info:  (940) 389-6151
Find more information about other rides on our mainpage