The Chihuahuan Desert Bike Fest page, provides you with the official registration information, ride distances etc. and if you scroll down a bit, videos, interviews and ride reports for this event. If you don't see a ride report and you participated in the event in the past, feel free to type something up and we'll add it here!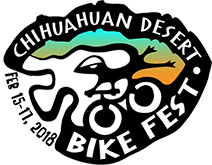 Date: February 15-17, 2018
Event: 7th Annual Chihuahuan Desert Bike Fest
About the Ride: 
The Fun, the Glory and the Excitement of the 7th Chihuahuan Desert Bike Fest hosted over 500 riders, led more than a dozen guided rides, filled every local hotel room and raised over $4,700 with raffle tickets and the registration donations alone!!
We'll have more links for photos and fun stuff as the days go by.
Until next year, true wheels and tailwinds from all the folks out here in deep West Texas Mountainbiking Country.
The Chihuahuan Desert Bike Fest benefits the Big Bend Trails Alliance,
a local, non-profit organization that helps create and maintain these famous West Texas trails.
Pre-registration for 2018 opened in early December, 2017 and was sold out by the first week of January, 2018. Don't be too sad if you missed out this year…. mark your calendar for next year!
Event Website: bikefest.desertsportstx.com
Location: Terlingua, TX  79852
Registration details: Online registration via Bikereg.com

Contact details: 888-989-6900 toll-free
Find more information about other rides on our mainpage