The Cove House Classic Bike Tour page, provides you with the official registration information, ride distances etc. and if you scroll down a bit, videos, interviews and ride reports for this event. If you don't see a ride report and you participated in the event in the past, feel free to type something up and we'll add it here!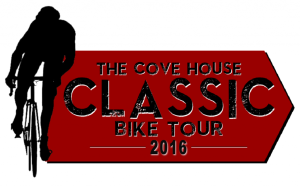 Date: Saturday, August 11, 2018
Event: Cove House Classic Bike Tour
Route Distance: 26, 42, 50 and 63 miles
About the Ride:
Come join us for the Cove House Classic Bike Tour!
All proceeds benefit the Cove House Emergency Homeless Shelter, Inc.
RACE DATE: Saturday, August 11, 2018
START TIME: 7:30am (Registration begins at 6:30am)
STARTING LOCATION: First Baptist Church of Copperas Cove  300 W Avenue B, Copperas Cove, TX 76522
COST: Single Rider: $30.00, Tandem Riders – $40.00 (After August 4th, cost increases to Single Rider: $35.00, Tandem Riders: $50.00)
RACE DISTANCES: 26 Miles, 42 Miles, 50 Miles, and 63 Miles  (To see a map of the biking route, please click on the appropriate distance.)
Come be a part of this exciting event that just keeps getting better and better! Come join hundreds of other riders as they take on the beautiful rolling hills of Central Texas. We have experienced riders join us as well as parents with their children coming out to have some casual fun together! Whoever you are, we have a ride for you and would be honored to have you come be a part of the annual Cove House Classic Bike Tour!
This event is sponsored by Cove House Emergency Homeless Shelter and Bike Central Texas (Copperas Cove Chamber of Commerce). This ride supports the Texas Bicycle Coalition. We are proud to be working together each year for this exciting ride!
ALL RIDERS ARE REQUIRED TO WEAR HELMETS.
If you have any questions about the registration process or if you need additional information about the event, please feel free to contact the Cove House office at 254-547-4673 or visit our Contact Us page. We look forward to hearing from you!
Location: First Baptist Church of Copperas Cove, 300 W. Avenue B Copperas Cove, TX  76522
Event Website: www.covehouse.org
Registration Info: Online Registration via Active.com   coming soon
Contact Info: Contact page or Event Phone Number 254-547-4673
Find more information about other rides on our mainpage