The Fire-Ant 100 page, provides you with the official registration information, ride distances etc. and if you scroll down a bit, videos, interviews and ride reports for this event. If you don't see a ride report and you participated in the event in the past, feel free to type something up and we'll add it here!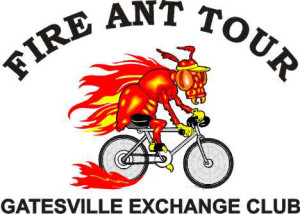 Date: June 8, 2019
Event: 24th Annual 100K Fire-Ant Tour
Route distances: Approximately 10 miles, 32 miles, 50 miles, and 100K
About the Ride:
24thAnnual 100K  Fireant Tour
 Gatesville, Texas
Saturday, June 8, 2019
Ride Packet Pickup & Onsite Registration: Saturday, June 8, 2019, 6:30-8:00 a.m. at the Gatesville Civic Center, 301 Veteran's Memorial Drive, Gatesville, Texas.
Ride starts: 8:00 AM
Routes are approximately 10, 32, 50 miles and 100 K (approx. 62.5 mi) on paved county roads. All riders are required to wear helmets and safety gear.
Sag Stations will be placed at 10-mile intervals, and at the start-finish area.  Porta-potties will be available at all Sag Stations and Sag Wagons will be driving all routes throughout the ride to assist if needed.
The first 300 to register will receive a courtesy packet with this year's  Fire-Ant 100K T-shirt and a variety of goodies including
a free pass to Gatesville Fitness Center, to shower & change (bring your own towels), and to use the indoor pool.
Location: Gatesville Civic Center, 301 Veteran's Memorial Drive, Gatesville, TX

Event website: www.GatesvilleExchangeClub.org   |   Facebook Page

Registration: Online registration
Contact info: Click here
Find more information about other rides on our mainpage