The Freeze Your Fanny page, provides you with the official registration information, ride distances etc. and if you scroll down a bit, videos, interviews and ride reports for this event. If you don't see a ride report and you participated in the event in the past, feel free to type something up and we'll add it here!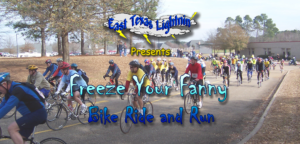 Date: Saturday, February 3, 2018 at 10 a.m.
Event: 30th annual Freeze Your Fanny
Route Distances (Click for Route maps): Metric Century Route Map    50 Mile Route Map   40 Mile Route Map    30 Mile Route Map   10 Mile Route
About the Ride:
Freeze Your Fanny marks its 30th Year in 2018.
Come join the fun and experience a bike tour unlike any other.
Our Mission: To provide recreational and athletic events for individuals with intellectual disabilities.
Our Goal: To enrich the lives of all individuals and to provide an environment of acceptance. To promote and encourage the willingness to overcome limitations and boundaries. To provide an environment of equality, respect and acceptance.
Location: Johnston Mcqueen Elementary, 422 FM 2751 | Longview, TX 75605
Event Website: http://www.freezeyourfanny.com
Registration details: Online Registration
Contact info: Please contact East Texas Lightnin' at 903-238-5062 or email: pmjc@sbcglobal.net
Find more information about other rides on our mainpage