The Hill Country Ride for AIDS page, provides you with the official registration information, ride distances etc. and if you scroll down a bit, videos, interviews and ride reports for this event. If you don't see a ride report and you participated in the event in the past, feel free to type something up and we'll add it here!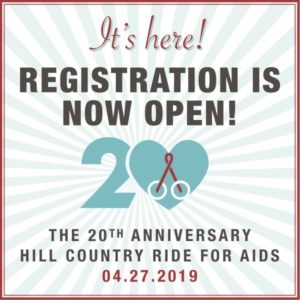 Date: April 27, 2019

Event: 20th Annual Hill Country Ride for AIDS
Route Distances: 13, 27, 45, 65 and 90 miles

About the Ride:
The Hill Country Ride for AIDS (HCRA) is the largest fundraiser in central Texas for HIV/AIDS services. A family-friendly and festive bike ride through the beautiful hill country, the Ride raises funds that are given directly to nine local nonprofits who help those in our community affected by HIV/AIDS. In the past 18 years the Ride has raised over $8.5 million. The Ride has been voted "Best Ride" in Austin for two consecutive years and is a beloved community event with an amazingly loyal and supportive following.
Approximately 600 riders, 250+ volunteers, and 100+ guests are expected to attend/participate.
The HCRA is the largest fundraiser for nine local non-profit organizations: AIDS Services of Austin, allgo, CARE Program, Community Action, Friends of David Powell Health Center, Out Youth, Project Transitions, Waterloo Counseling, and the Wright House Wellness Center.
These organizations provide a continuum of critical HIV/AIDS services that include: prevention/education, medical care, housing, hospice, dental care, transportation, food pantry, case management, HIV testing, financial assistance, practical support, substance abuse, and mental health services.
Our goal is to raise $550,000. The Vast majority of funds raised comes from riders and volunteers. First time riders commit to raising at least $250 towards the goal. Each returning rider commits to raising $500. However, the usual average raised by riders is closer to $1,000.
Location: Krause Springs, 404 Krause Spring Rd. Spicewood, TX 78669
Event Website: hillcountryride.greatfeats.com
Registration: Online registration
Contact info: info@hillcountryride.org
Find more information about other rides on our mainpage