The Lampasas Hillacious Bike Tour page, provides you with the official registration information, ride distances etc. and if you scroll down a bit, videos, interviews and ride reports for this event. If you don't see a ride report and you participated in the event in the past, feel free to type something up and we'll add it here!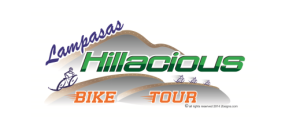 Date: April 14, 2018
Event: Lampasas Hillacious Bike Tour
Route distances: 9, 34, 49 and 69 miles
About the event:
Canceled for 2018
Due to a scheduling conflict with the Tour de Cure occurring on the same date as our established ride, we are unfortunately canceling our ride in deference to this cycling event that is a major fund raiser for diabetes.
The Lampasas Hillacious Bike Tour will be held in Lampasas, Texas on April 14th, Saturday, starting at 8:30 AM at the Lampasas ISD Middle School just off Texas State Highway 281 between 7th and 9th streets.  The distances will be 9, 34, 49, and 69 miles.  There will be plenty of rest stops.  This event is a fund raiser for Vision Lampasas, an all-volunteer group dedicated to enhancing the aesthetic, social, cultural and economic welfare of the historic downtown Lampasas District and surrounding areas.  A site for information, registration, and tour maps will be provided very soon.  Yes, we have challenging hills and amazing vistas worth the effort.  This tour is a great primer for events such as the Kerrville Easter Ride, the San Antonio Fiesta Ride, the Blanco Real Ale Ride, or the Wichita Falls Hotter-N-Hell in August.  More information will be forthcoming.  Tour Director, Joe Corcoran at 210-326-8892.
Early registrants will be also receiving an 8 oz bottle of Vitalogy SPF 30 courtesy of Viatolgy Skin Care of Austin, Texas.  Also, showers will be available at the school gymnasium after the ride, so bring your towel and soap.  There will also be hamburgers and hot dogs, as well as tea after the ride for all participants.  The downtown merchants with the Courthouse Square Association will also have a tent at the end of the ride for information about the town, and the newly renovated Lampasas Museum will also be open..  Also, our beautiful river walk is very near the event, so bring the family.
Location: Bozarth Fowler Gym, Lampasas Middle School, South Chestnut and South Street, Lampasas, Texas 76550
Website: visionlampasas.com  Facebook page
Registration details: Online registration via Bikereg.com
Contact info: Joe Corcoran (210) 326-8892
Find more information about other rides on our mainpage