The Magical Museum Tour page, provides you with the official registration information, ride distances etc. and if you scroll down a bit, videos, interviews and ride reports for this event. If you don't see a ride report and you participated in the event in the past, feel free to type something up and we'll add it here!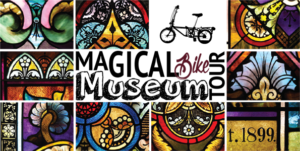 Date: October 6, 2018
Event: Magical Museum Tour
Route distances: 18, 28, 40 and 50 miles

About the ride:
The "Magical Museum Tour" is a fundraiser and social ride for the Houston Bicycle Museum starting and finishing in Schulenburg, Texas. It features rides of different lengths on low traffic country roads and will also provide you with a chance to visit the famous "painted churches" of Fayette County. Each of the routes will cross a piano-wire truss bridge erected in 1885 (that's 131 years ago). Also, there will be a historian on site at the Saint Cyril Methodius Catholic Church in Dubina to provide historical context for your enjoyment and education.
Registration begins at 7:00 am and complimentary refreshments will be available. The ride will begin at 8:00 am.
After the ride, tour the local wineries for tastings then visit the Stanzel Model Aircraft Museum and Texas Polka Music Museum.
Go early and spend the night enjoying the little town with its historical Czech flavor. An area map will be available for those of you who want to stay over and explore the roads of Fayette County on Sunday. The roads in the area are all lightly traveled. These would be "on-your-own" unsupported rides.
Come join us October 6, 2018 for a great ride for a good cause, the funding for the Houston Bicycle Museum!
A small group is presently registered.  Join us, Register now!
Location: 1103 Bohlmann St; Schulenburg, Texas 78956
Event website: www.mysterytour.bike
Registration: Online registration via BikeReg.com
Contact info: info@houstonbicyclemuseum.org
Find more information about other rides on our mainpage