The Midnight Massacre page, provides you with the official registration information, ride distances etc. and if you scroll down a bit, videos, interviews and ride reports for this event. If you don't see a ride report and you participated in the event in the past, feel free to type something up and we'll add it here!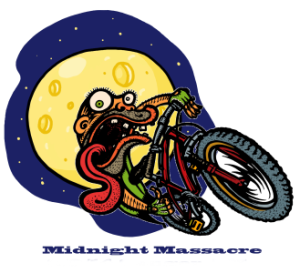 Date: August 11, 2018
Event: Midnight Massacre
Route Distance: 50K and 100K
About the Ride:
The original night time gravel grinder!
Save the date. More details soon.
Location: 703 S Lee St, Valley View, TX 76272
Event Website: www.spinistry.com   |   Facebook event
Registration Info: Coming soon
Contact Info: kevin.lee.tx@gmail.com or Event Phone Number (817) 715-0533
Find more information about other rides on our mainpage