The Pedal Against PTSD page, provides you with the official registration information, ride distances etc. and if you scroll down a bit, videos, interviews and ride reports for this event. If you don't see a ride report and you participated in the event in the past, feel free to type something up and we'll add it here!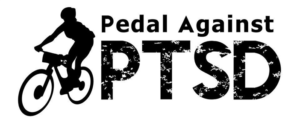 Date:  Saturday, May 19, 2018

Event:
3rd Annual Pedal Against PTSD Grind

Route distances: 25, 55 and 100 K
About the Ride: It's the 3rd annual PAPTSD Grind! Come out and support your favorite veteran based nonprofit…..Pedal Against PTSD!
It was during the grueling 2013 Tour Divide race that Kevin Campagna, a USMC combat veteran, felt the inspiration to share his passion of cycling as a source of relief for his affliction with PTSD. Kevin likens his cycling expeditions to his service in the Marine Corps. The training, the sacrifice, and the mental toughness are all similar to what he went through in the military and what he must go through every day in order to combat PTSD. Kevin believes that there's healing through cycling and has made it his mission to help his fellow veterans who are suffering gain relief through the sport of cycling and to promote awareness in hopes of breaking the stigma that PTSD carries.
Our mission at Pedal Against PTSD is to empower military and veterans to overcome PTSD through the sport of cycling.
Our vision is to continue to raise awareness regarding the severity of PTSD and to share the benefits that the sport of cycling brings with all military and veterans that struggle with PTSD.
Our goal at Pedal Against PTSD is to provide vets with quality bicycles, create an strong community outreach program and contribute funds back to research and development to help combat the affliction that is PTSD.
Event notes
Here is the schedule of events for the day:
7:30 am — Boy Scout Flag ceremony
7:45 am –  Moment of Silence
7:55 am — PAPTSD Team with welcome announcements
8:00 am — Sponsor Pesentations
8:15 am — Call to the starting line; Mass Start!
8:20 am — 100K lines up first; 55K; then 25K road ride
If you are registering your team or family please select the TEAM option for the distance you want to ride to receive the $5.00 per entry discount!  The more the merrier so bring all of your friends and have a fun day on two wheels!
The event is held at the John Porter Sports Complex on the west side of I-35 in Sanger. If you Google the name of the park, it will come up. If you have any additional questions regarding location, please email us at jreich@paptsd.org  If you are interested in helping to sponsor this event or others like it from Pedal Against PTSD, please send us an email at jreich@paptsd.org.  We would LOVE to get your support!
Unfortunately, there are no refunds. You can, however, transfer your registration to another person for free.  Please email us at jreich@paptsd.org for more information.
We will hold this event rain or shine, so come prepared!
There is one stop along the 25k route, the 50k will have an additional 1 stop and the 100K will have 2 stops. Our event volunteers will be at these rest stops and ready to assist any way they can…short of doing the pedaling for you of course.
This will be a self-supported ride.  Our sponsors will be on site to help with minor repairs before and after the ride, once you are out on course, it's all you. We suggest bringing a spare tube/patch kit, etc. just in case it's needed…AND WATER.  🙂  We will have SAG vehicles running the course for pick up back to JPS complex.  The SAG number is located on the front of your event number plate.
Registration: Online Registration via Bikereg.com
Website:
paptsd.org
Contact Info: 
jreich@paptsd.org
Find more information about other rides on our mainpage