The Pico de Gallo Century Bike Ride page, provides you with the official registration information, ride distances etc. and if you scroll down a bit, videos, interviews and ride reports for this event. If you don't see a ride report and you participated in the event in the past, feel free to type something up and we'll add it here!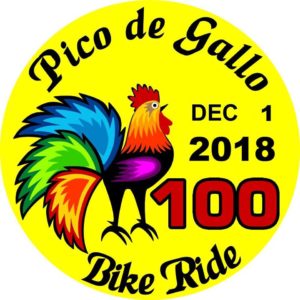 Date: December 1, 2018
Event: 9th annual Pico de Gallo Century Bike Ride
Route distances: 100 miles
About the Ride:
9th Annual Pico de Gallo 100 Bike Ride
Join us to enjoy the last century ride of the year in Texas with your cycling friends. Don't miss the biggest end of the year cycling party on the road!
Thanks to our organizers, friends, sponsors, donors, and volunteers, this event is FREE as part of our annual gift to you, the cycling community. As we ride through Hidalgo, Cameron, and Willacy County, we will be promoting cycling awareness so make sure you follow all traffic laws, wear lights, helmet, bright jerseys and enjoy the ride with other cycling enthusiasts. Be sure to make eye contact with motorists and smile.
Be prepared with cycling gear in case of inclement weather.
Event information:
Visit www.picodegallo100.com for the latest event information and updates.
Support and Gear:
SAG will only be available until 5pm. Please make personal arrangements to be SAGed if you wish to continue the 100 mile ride or to be picked up after 5pm.
Participants:
This ride is a 100 mile route for trained and experienced cyclists only. This ride is not for children or untrained minors. Parents should be realistic with their children's / minor's cycling abilities if they have not been training with long distance rides leading up to the event. Trained riders under 14 years must be accompanied by their parents, adult, or guardians at all times. Special arrangements should be made to have minors picked up, as necessary.
Location: Weslaco City Park 300 North Airport Drive Weslaco, TX 78596
Event Website: picodegallo100.com   |   Facebook page   |   Facebook event
Registration details: Free
Contact info: 956-929-9555
Find more information about other rides on our mainpage