The STEAM-N-WHEELS page, provides you with the official registration information, ride distances etc. and if you scroll down a bit, videos, interviews and ride reports for this event. If you don't see a ride report and you participated in the event in the past, feel free to type something up and we'll add it here!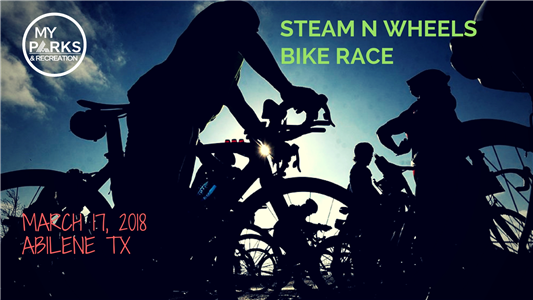 Date: Saturday, March 17, 2018
Event: 26th Annual STEAM-N-WHEELS
Route Distances: 12, 32 and 48 Miles
About the Ride:
Join us for the 26th annual Steam-N-Wheels Bike Race on Saturday, March 17, 2017 at 10:00 A.M. at Nelson Park. Participants will have three course routes to choose from: 12, 32, and 48 miles. The first 200 riders that register will receive a complimentary long sleeve event t-shirt. Entry fee is $35/per rider, register online at www.abilenetx.gov/signup or www.bikereg.com/abilene. Day of registration will begin at 8:00 A.M. and last until 9:30 A.M., with the fee increasing to $40/ per rider. Packet pickup will be available on race day beginning at 8:00 A.M.
The course route will be posted at www.abilenetx.gov/recreation under the 'Events' tab as the event nears. Designated rest stops will be available throughout the course. Helmets will be required for all participants. For any questions, email us parksandrec@abilenetx.gov.
Location: 200 Zoo Lane, Abilene, TX  79602
Event Website: www.abilenetx.com   |   Facebook event
Registration details: Online registration via Bikereg.com
Contact info: parksandrec@abilenetx.gov
Find more information about other rides on our mainpage