The Stonewall Century Bicycle Ride page, provides you with the official registration information, ride distances etc. and if you scroll down a bit, videos, interviews and ride reports for this event. If you don't see a ride report and you participated in the event in the past, feel to type something up and we'll add it here!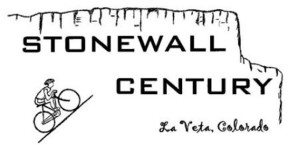 Date: August 10, 2019
Event: 16th Annual Stonewall Century Bicycle Ride
Route Distances: 102 miles

About the Ride: The Stonewall Century is a challenging road bike ride along one of Colorado's most beautiful scenic highways. We welcome you to come and enjoy some of the best road riding in Southern Colorado.
Join us on August 10, and you'll be treated to scenic vistas, friendly volunteers, great feed stations, and steep hills. The route follows Highway 12, a Colorado Scenic Byway known as the "Highway of Legends". You'll start in La Veta at 7,013 ft elevation, climb to the top of Cucharas Pass (9,945 ft), descend to 8,400 ft then climb to the second feed station at North Lake (8,600 ft). The route descends to the beautiful town of Stonewall and on to the lunch stop in Segundo, where the route reverses and returns, climbing along Highway 12. You'll encounter the back side of Cucharas Pass, which some have called the "Soul Crusher" at 83 miles into the 102-mile ride. The grade on this beast exceeds 10%. Have no fear, the steepest section lasts only one mile and the grade lessens toward the top. Then you'll enjoy the 17-mile descent into La Veta, where a BBQ dinner and massage tables await you.
102 miles
+7500 ft elevation gain
This is an out-and-back ride. Turn around wherever you like and head back to the party in the La Veta Town Park
Start/end in La Veta Town Park
Start time: 6:30 am – 8:30 am
Ride along beautiful Colorado State Highway 12 to Segundo and back
Registration fee covers 7 SAG stations (including a mid-ride lunch stop), mechanical assistance, a post-ride barbeque, t-shirt and more
Click here for the Route And Profile map. Note, the route and profile are in pdf file format, which your can read using Acrobat Reader. (Click here to download Adobe Acrobat Reader.)
Location: La Veta Town Park – 132 W Ryus Ave La Veta, CO 81055
Event Website: spcycling.org
Registration details: Online registration via Active.com
Contact info: info@spcycling.org
Find more information about other rides on our mainpage