The BLAST page provides you with the official registration information, ride distances etc. and if you scroll down a bit, videos, interviews and ride reports for this event. If you don't see a ride report and you participated in the event in the past, feel free to type something up and we'll add it here!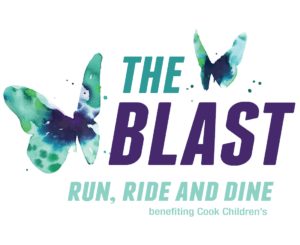 Date: March 23, 2019
Event: The BLAST
Route Distances: 1-Mile fun run, 5K, and 30-Mile bike ride
About the Ride:
Join us on March 24, 2018 as we Run, Ride and Dine to make a difference in the lives of Cook Children's patients and families fighting neuroblastoma, a rare and aggressive form of cancer.
This year's event features a 1-Mile fun run at 8:15am, 5K at 8:00am and 30-Mile bike ride at 7:30am. 
The Blast is an event all about promises. It was born from the promise made between two friends, Alexa Sankary and Michael Mancuso. Michael was diagnosed at the age of 4 with neuroblastoma. Before he passed away at the age of 7, Alexa promised him she would help find a cure for the children suffering from this terrible disease.
That promise was made over 11 years ago and since that time, The Blast has raised $1.2 million for the Neuroblastoma Program at Cook Children's! The Blast continues to be an awe inspiring community event honoring Michael's memory and celebrating the courage and strength of all the children and families affected by neuroblastoma at Cook Children's.
Location: Clearfork Main St, Fort Worth, TX 76107
Event Website: promise.cookchildrens.org   |   Facebook page   |   Facebook event
Registration details: Online registration
Contact info: theblast@cookchildrens.org
Find more information about other rides on our mainpage