The Goatneck Bike ride page, provides you with the official registration information, ride distances etc. and if you scroll down a bit, videos, interviews and ride reports for this event. If you don't see a ride report and you participated in the event in the past, feel free to type something up and we'll add it here!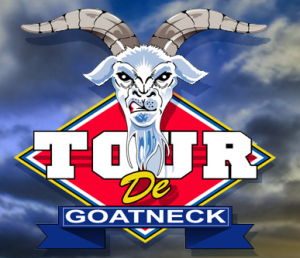 Date: July 28, 2018
Event: 31st Annual Goatneck Bike Ride
Routes: 10, 27, 41 and 69.5 miles
About the event:
COME BE A PART OF OUR 31st ANNUAL BIKE RIDE.  It is a scenic, well supported ride just south of DFW.  This ride offers beautiful scenery fom Cleburne, down to the Brazos river then onto Glen Rose and then back to Cleburne. The money from this ride supports various charities through out Cleburne and Johnson County.
The annual event has over 2,500 riders from across the country. The Goatneck bike ride is a rolling hill course which averages around 35 feet per mile of climbing which includes a 69.5 mile, 41 mile, 27 mile, and 10 mile bike race.
Event Website: www.thegoatneck.us
Contact info: goatneckride@gmail.com
Find more information about other rides on our mainpage