The Great Out and Back page, provides you with the official registration information, ride distances etc. and if you scroll down a bit, videos, interviews and ride reports for this event. If you don't see a ride report and you participated in the event in the past, feel free to type something up and we'll add it here!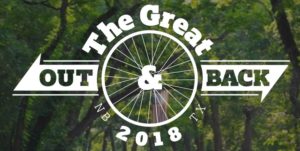 Date: May 5, 2018

Event: The Great Out and Back
Route Distances: 12, 22, 30, 40, 50 and 62 miles
About the Ride:
Come and ride The Great Out & Back of New Braunfels. Roads so nice you don't mind riding twice! Ride any distance. Everyone is on the same route. Everyone gets to ride scenic River Road…TWICE! Plan on turning around at mile 20? Push it a little further and turn around at mile 25 and go further than ever without fearing getting caught in no-man's-land! Or go all the way to mile 31 and turn around to complete a Metric Century. Not feeling well? Turn around at mile 10 or wait for your buddies and join them on the way back!
Location: Oakwood Baptist Church, 2154 Loop 337 New Braunfels, TX  78130
Event Website: http://greatoutandback.com
Registration: Online registration via BikeReg.com
Contact info: rachel.garza@oakwoodnb.com
Phone 830-625-0267
Find more information about other rides on our mainpage