The Holey Roller page, provides you with the official registration information, ride distances etc. and if you scroll down a bit, videos, interviews and ride reports for this event. If you don't see a ride report and you participated in the event in the past, feel free to type something up and we'll add it here!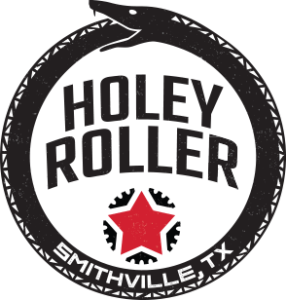 Date: March 2, 2019
Event: The Holey Roller
Route Distances: 50 miles

About the Ride: 
Holey Roller is a self-supported bike ride on a set route along mixed terrain roads. The ride starts and finishes at Rocky Hill Ranch in Smithville, TX. The route takes you on gravel, dirt, and paved roads through the piney woods of Central Texas. There will be food and Real Ale beer waiting for you and your friends at the end of the ride.
We are limiting this ride to the first 200 registrants.
START LOCATION
Rocky Hill Ranch, Smithville TX
Saturday, March 3, 2018
Ranch opens at 7:30 AM
Packet pick up opens at 8 AM
Wheels down at 8:30 AM
COST
$40. Price includes long sleeve t-shirt, lunch, and 2 beers. Riders are responsible for the Ranch's $10 parking fee. Please bring cash for parking.
Register by February 7 to be guaranteed an event shirt. If you register after February 6, we may or may not have a shirt available in your size.
MANDATORY GEAR
Bike helmet
Sufficient food and drink for the ride. There are no rest stops!
Spare tubes, patch kit, and tire boots
Co2 cartridges or pump
Weather appropriate clothing including possible shifts in temperatures and precipitation
Multitool
Cell phone
GPS unit or bicycle computer (Very important. Many of the roads do not have visible signage or signs are turned around. You will need to know mileage to anticipate turns.)
The ideal bicycle for conquering these gravel roads is one that can traverse them swiftly, perhaps one with drop bars to allow the rider to switch hand positions and to hunker down when facing a stiff headwind. But, it should also have enough seat and chainstay clearance to run tires with sufficient volume to take the edge of the rough and rutted roads. The ideal bike should provide more stability than a road bike, but be nimble enough to make quick course corrections to avoid other riders, ruts, cowpies, and rattlesnakes masquerading as sticks. Cyclocross and mountain bikes are great options.
ROUTE
The route for this year will likely be identical to 2017's Holey Roller:
Garmin Route
https://connect.garmin.com/modern/course/5767438
Strava GPX File
GPX File
Location: Rocky Hill Ranch, Smithville TX
Website: www.bicyclesportshop.com/holey-roller
Registration: Online registration
Find more information about other rides on our mainpage