The Mineola Metric 100 Bicycle Ride page, provides you with the official registration information, ride distances etc. and if you scroll down a bit, videos, interviews and ride reports for this event. If you don't see a ride report and you participated in the event in the past, feel free to type something up and we'll add it here!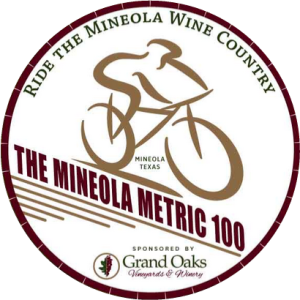 Date: May 11, 2019

Event: The Mineola Metric 100 Bicycle Ride
Route Distances: From 17 miles to 62 miles (100km)
About the Ride:
Ride the Mineola Wine Country! This is a beautiful ride through the gently rolling hills of East Texas. Perfectly situated adjacent to the Historic Main Street Town of Mineola, the Mineola Metric 100 has 5 rides that range from 17-62 miles. All rides start and end at the 3000 acre Mineola Nature Preserve, wind past green pastures, wildflower fields, neighborhood streets and beautiful vineyards. Several rest stops along the way are there to serve up tasty treats water, electrolyte replacement drinks. Finally, we top all that off with a hill-top Grand Oaks Winery after-party. Come ride with us!
Location: 1860 County Road 2724, Mineola, TX  75773
Event Website: mineolametric100.org
Registration: Online registration via BikeReg.com
Contact info: mlmchenry@gowinerymineola.com
Find more information about other rides on our mainpage