The Tour de Fireant page, provides you with the official registration information, ride distances etc. and if you scroll down a bit, videos, interviews and ride reports for this event. If you don't see a ride report and you participated in the event in the past, feel free to type something up and we'll add it here!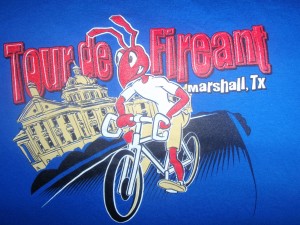 Date: October 13, 2018
Event: Tour de Fireant
Route Distances: 10, 30, 45 miles and 100K

About the Ride: 
Welcome to Tour de Fireant!
Come run and/or ride with us!
5K begins at 8 a.m. Ride begins at 9:00 a.m. For the bike ride we offer 10, 30, 45 mile and 100K routes. A Trek bike will be given away. Entry fee for 5K only is $20 pre-registered & $25 day of race. 1 Mile "Fun Walk / Run" only $17.50 pre-registered, $20 day of event.. Bike ride only is $35 if you pre-register, $40 day of ride. You can save $5 if you participate in both. Both 5K & bike ride registration fees are $50 pre-registered & $60 day of the ride/run. Free pizza & beer for all runners and riders after the bike ride!
*** VIEW PHOTOS OF LAST YEAR'S EVENT HERE! ***
Runners & Riders – One click – Two Events
Pre-registered participants will be guaranteed to receive a t-shirt & fireant antennas. All other participants will receive fireant antennas and t-shirt as quantities/sizing are available on day of the event.
Save The Date!
October 13, 2018
Run at 8
Ride at 9
Registration & packet pickup will begin at 7:00 in the 200 block of W Houston on the morning of the ride, one block from the downtown square. The run will be begin at 8 a.m. The bike ride will begin at 9 a.m.  For the bike ride, there will be a staggered mass start according to distance.
REGISTRATION FEES
The entry fees are as follows: For pre-registered pricing, the entry has to be received by Wednesday, October 11. After that date, the regular pricing applies. NO REFUNDS WILL BE MADE:
1 Mile Fun Walk/Run – $17.50 Pre-registered/$20 Day of event
5K Only – $20 Pre-registered/$25 Day of event
Bike Ride Only – $35 Pre-registered/$40 Day of event
5K AND Bike Ride Combo – $50 Pre-registered/$60 Day of event
All events will be held regardless of weather.
All pre-registered participants will receive a t-shirt. Pizza will be served to registrants beginning around 11:00 a.m. For registrants that are over the age of 21, beer will be served. Our over the age of 21 registrants will also have a chance to win a Trek road bike!
Location: Marshall, Texas
Event Website:  www.tourdefireant.com
Registration: Online registration
Contact info: Phone: (903)935-7868  Email: info@marshalltexas.com
Find more information about other rides on our mainpage