The Tour de Groves/SETX page, provides you with the official registration information, ride distances etc. and if you scroll down a bit, videos, interviews and ride reports for this event. If you don't see a ride report and you participated in the event in the past, feel free to type something up and we'll add it here!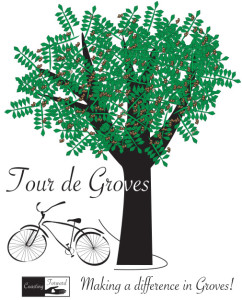 Date: October 20, 2018
Event: Tour de Groves/SETX
About the Ride:
The Tour de Groves bike ride is directed and organized by Coastal Caregivers, Inc. on behalf of Coasting Forward. Coasting Forward is a 501c3 non-profit based on helping organizations in providing assistance to senior citizens in our communities.  Coasting Forward acts on the premise of "paying it forward".  Their goal is to raise awareness to the needs of seniors in our area, raise money through that awareness and donate it to those organizations that can utilize it for the needs of senior citizens.  Coastal Caregivers, Inc. provides in-home care to senior citizens in all of Southeast Texas.
Our 4th annual Tour de Groves bike ride is set for Saturday, October 20th.  All routes will begin at 8:00 am.
The Tour de Groves is a neighborhood bike ride interested in getting the community outside, neighbors meeting neighbors, and introducing a great activity fit for everyone all while benefitting the Groves Senior Center.  We offer a ride length for most skill levels.  Cycling is a great opportunity that encompasses all aspects of our goal.  All proceeds will benefit the Groves Senior Center  & other senior care programs.
Location: 4400 Lincoln Avenue, Groves, TX  77619
Event Website: tourdegroves.com |   Facebook page
Registration details: Online registration via BikeReg.com
Contact info: Barbara@mycoastalcaregivers.com
Find more information about other rides on our mainpage