The Tour d'Italia page, provides you with the official registration information, ride distances etc. and if you scroll down a bit,  videos, interviews and ride reports for this event. If you don't see a ride report and you participated in the event in the past, feel free to type something up and we'll add it here!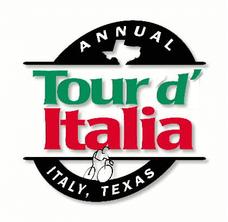 Date: June 16, 2018
Event: 33rd Annual Tour d'Italia
Route distances: 12, 30, 40, 50, and 63 miles
Tour: This event is a part of a four rally challenge – European Tour of Texas Challenge
About the ride:
Lone Star Cyclists proudly sponsor the 33rd Annual Tour d'Italia.
Benefiting Italy High School, the Texas Scottish Rite Hospital for Children, and other North Texas charities, Tour d'Italia enters its 33rd year, bigger and better than ever.  Join over 1200 riders to earn one of our collector-quality T shirts and post-ride snow cones! You must pre-register to be guaranteed a shirt. Camping is available at the high school, and in the air conditioned gym.
Event details and schedule
Routes from 12 to 63 miles appeal to the entire family. For detailed and current route information, see:
https://ridewithgps.com/events/47180-2018-tour-d-italia
The ride begins at 8:00 am.
Meals (pay onsite)
June 15, Friday evening @ 6:00 pm – Spaghetti Dinner, $6 All You Can Eat
June 16, Saturday morning – Pancake Breakfast, $5 All You can Eat
June 16, Saturday lunch – Hamburgers $3, Hot Dogs $2, & Bar-B-Q Sandwiches $5
Proceeds for these support Italy High School.
After the Ride
Enjoy free snow cones, a cold drink, and a hot shower at Italy High School.
Location: Italy High School, 300 College Street Italy, TX  76651

Event website: www.tourditalia.org   |   Facebook Page   |   Facebook Event
Registration: Online registration via Active.com
Contact info: Online contact form
Find more information about other rides on our mainpage