The Trick It Up Bike Ride page, provides you with the official registration information, ride distances etc. and if you scroll down a bit, videos, interviews and ride reports for this event. If you don't see a ride report and you participated in the event in the past, feel free to type something up and we'll add it here!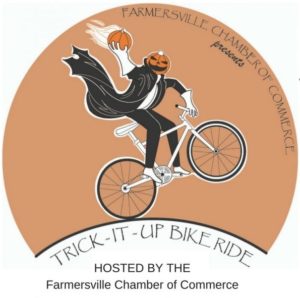 Date: October 26, 2019

Event: 9th Annual Trick It Up Bike Ride
Route Distances: 10, 20, 30, 40, 50 and 62 miles

About the Ride: 
The 9th Annual Trick-It-Up Bike Ride
We will do it again in 2019
At the historic Onion Shed
154 S. Main Street  |  Farmersville
Ride for fun, ride for the challenge, or ride for the passion of pedaling in the 9th annual Trick-It-Up Bike Ride. Join 500+ riders and see the beautiful countryside around Farmersville, Texas in 2019.
Location: 154 S Main St Farmersville, TX 75442
Event Website: www.farmersvillechamber.com
Registration Details: Coming soon
Contact Info:  (972) 782-6533
Find more information about other rides on our mainpage