The Trick It Up Bike Ride page, provides you with the official registration information, ride distances etc. and if you scroll down a bit, videos, interviews and ride reports for this event. If you don't see a ride report and you participated in the event in the past, feel free to type something up and we'll add it here!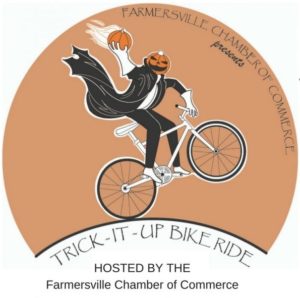 Date: October 27, 2018 @ 9 A.M.

Event: 8th Annual Trick It Up Bike Ride
Route Distances: 10, 20, 30, 40, 50 and 62 miles

About the Ride: 
The 8th Annual Trick-It-Up Bike Ride
We will do it again in 2018
$30 Early Registration starting in August 2018
Bike Ride from 9AM-3PM
At the historic Onion Shed
154 S. Main Street  |  Farmersville
Ride for fun, ride for the challenge, or ride for the passion of pedaling in the 8th annual Trick-It-Up Bike Ride. Join 500+ riders and see the beautiful countryside around Farmersville, Texas in 2018.
We'll do it again — you can sign up for a 10, 20, 30, 40, 50 or the 62 mile ride! Route & Registration forms will be on our website in August 2018.
For optional fun; Trick-Up your bike or attire with a Halloween theme.
Scenic routes on paved roads
Rest Stops & Sag Wagons
T-shirts to the first 500 Registered Riders
We'll have free Lunch and the complimentary beer garden for our riders again next year.
2017 sponsors We can put your business name and logo on our event t-shirts. For more info please call 972-782-6533
Location: 154 S Main St Farmersville, TX 75442
Event Website: www.farmersvillechamber.com
Registration Details: Coming in August 2018
Contact Info:  (972) 782-6533
Find more information about other rides on our mainpage